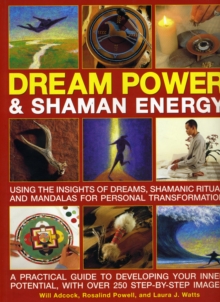 Dream Power and Shaman Energy
Paperback / softback
Description
Using the insights of dreams, shamanic ritual and mandalas for personal transformation, this title shows you how to: tune in to life-enriching spiritual vibrations; journey to other worlds, achieve trance states, and learn healing rituals with Shamanism; decipher dreams, symbols and signs to deepen self-knowledge and to help make the most of opportunities in your life; and, meditate with Mandalas to discover inner wisdom and peace.
It features specially commissioned artworks and beautiful photography.
This book provides a fascinating guide for the modern shaman in search of their own place in the universe.
You can discover how to journey to other worlds using the beat of a drum.
You can learn how to visualize a sacred space for quiet meditation and meet a power animal - your personal spirit ally.
You can find out how rituals and tools can enhance your shamanic experiences.
This volume is a beautifully illustrated passport to this enchanting world.
Clear and practical tips introduce you to the art of dream interpretation, and a dream dictionary will help you to unravel your unconscious. You can learn how to prepare to dream, to share your dreams with others, and even how to enter them and change their outcome.
Information
Format: Paperback / softback
Pages: 96 pages, over 250 photos & illustrations
Publisher: Anness Publishing
Publication Date: 12/07/2010
Category: Dreams & their interpretation
ISBN: 9781844767762
Also by Laura J. Watts