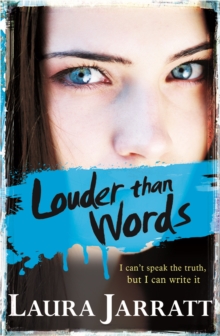 Louder Than Words
Paperback
Description
'The last person I spoke to was my brother, Silas, and I was six.
Since then, not a word. Silas says he'd give anything to hear me speak again.
Now I sit here and think the same thing about him.' A moving and heart warming novel from Carnegie Children's Book Award nominee Laura Jarratt, author of Skin Deep and Louder than words.
Rafi idolises her seventeen-year-old brother, who is popular, generous and a borderline genius.
Ever protective, Silas always includes her when he's with his friends, so Rafi gets to hear all sorts of things that younger sisters wouldn't normally be a part of.
Like the time Silas hacks a gaming site to help out his friend Josie, who has been trashed by her ex.
With Josie, Rafi finds herself with a proper friend for the first time in her life.
As they grow closer, she realises that she wants to find a way back into the world - she wants to learn to speak again.
But Silas has found a new interest too - and it's taking him away from everything that was once important to him.
Can Rafi find the words to save her brother? Perfect for fans of John Green, Sophie McKenzie's Trust in Me, Sarah Crossan's One, and Cat Clarke's The Lost and the Found. Look out for Laura's other books: Skin Deep, By Any Other Name, and In Another Life.
Laura Jarratt was born in Salford and has lived all over the UK.
Although her favourite subject was English, she accidentally studied Science at university.
She finally settled in rural Cheshire, where she lives with her family and is owned by a ginger cat with no tail.
By day, she works in education because it's never boring and by night, she writes for young adults because they're the most interesting people in the world.
Her first novel, Skin Deep, was shortlisted for the Waterstones Prize and the the YA category of the Romantic Novelists Association.
Information
Format:Paperback
Pages:416 pages
Publisher:Egmont UK Ltd
Publication Date:05/06/2014
Category:
ISBN:9781405269124
Also by Laura Jarratt