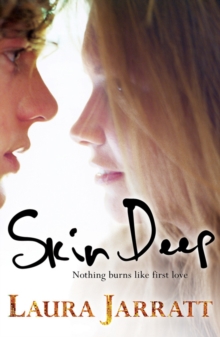 Description
"I wanted to say this morning, only you ran off ... sorry if I was rude.' The boy from the boat grineed, looking straight at me. 'You surprised me, that's all. The scar' - he touched his face - 'took me by surprise.
I didn't mean to be rude.' I gaped at him. Nobody ever, ever mentioned the scars."An against-the-odds teen love story shortlisted for the Waterstones Children's Book Prize. Ugly people don't have feelings. They're not like everyone else. They don't notice if you stare at them and turn away. And if they did notice, it wouldn't hurt them. They're not like real people. Or that's what I used to think. Before I learned . . . After the car crash that leaves her best friend dead, Jenna is permanently scarred.
She struggles to rebuild her life, but every stare in the street, every time she looks in the mirror, makes her want to retreat further from the world.
Until she meets Ryan. Ryan's a traveller. When he and his mother moor their narrow boat on the outskirts of a village, she tells him this time it will be different.
He doesn't believe her; he can't imagine why this place shouldn't be as unwelcoming as the rest.
Until he meets Jenna. But as Jenna and Ryan grow closer, repercussions from the crash continue to reverberate through the community. And then a body is found . . . A story of prejudice and courage, brimming with mystery.
Perfect for fans of Sarah Dessen, Jenny Valentine and Jenny Downham. Look out for Laura's other books: Louder than Words, By Any Other Name, and In Another Life. Laura Jarratt was born in Salford and has lived all over the UK.
Although her favourite subject was English, she accidentally studied Science at university.
She finally settled in rural Cheshire, where she lives with her family and is owned by a ginger cat with no tail. By day, she works in education because it's never boring and by night, she writes for young adults because they're the most interesting people in the world. Skin Deep, was shortlisted for the Waterstones Prize and the the YA category of the Romantic Novelists Association.
Information
Format: Paperback
Pages: 384 pages
Publisher: Egmont UK Ltd
Publication Date: 05/03/2012
Category: Romance
ISBN: 9781405256728
Free Home Delivery
on all orders
Pick up orders
from local bookshops
Reviews
Showing 1 - 1 of 1 reviews.
Review by C.S.Einfeld
16/06/2015
SKIN DEEP is quite simply, a beautiful book. It's the story of Jenna, the girl who was horribly disfigured in a tragic car accident, and Ryan, the gypsy traveller who's forced to be more parent than child to his bi-polar Mom.There are so many things to love about this story: for starters, the title is perfect as the theme of the novel is really about learning the layers of beauty, and how it can bloom or get twisted, the deeper you go. One of the things I liked most was how well each character is developed--even the baddie, Stephen Carlisle, has his reasons.Throughout the story, characters act heroically, and terribly, each according to their personal journey and their circumstances at the time. Sort of like how real life works, huh?Imo, it's this sublime craftsmanship--Jarratt's ability to reflect real life at its most personal and challenging--which catapults SKIN DEEP to a higher level. This is a very smart book with a very big heart and I recommend it highly.