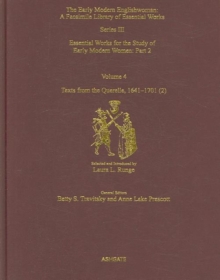 Texts from the Querelle, 1641-1701 (2) : Essential Works for the Study of Early Modern Women: Series III, Part Two, Volume 4
Hardback
Description
The querelle des femmes was a debate over the condition of women in society lasting four centuries and characteristically involved charges against female vice, folly, corruption, incontinence and lasciviousness, countered by pro-women defences and lists of exemplary women.
The texts in these two volumes range from broadside parliamentary petitions to verse satire, from sermons to philosophical essays, from political diatribes to marital advice.
The defences all respond to attacks on women, and although none argues for women's citizenship or social equality, many claim an original or spiritual equality, and blame custom and male corruption for female subjection.
The volumes are arranged into five sections covering Politics, Preaching and Silence, Sexuality, Marriage and Two Contrapuntal Defences.