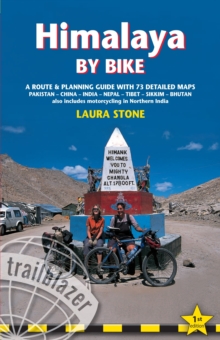 Himalaya by Bike : A Route and Planning Guide for Motorcyclists and Cyclists
Paperback / softback
Description
This is an inspirational and practical guide for the adventurous traveller who wants to take two wheels to the ultimate touring destination - the Himalaya.
Cyclists and motorcyclists are just discovering the enormous potential of this mountainous region in Asia, from desert to snowline over tarmac or dirt-road, whether for a three-week holiday or a six month epic ride.
Kilometre by kilometre guides detail the highest roads in the world, such as the Friendship Highway between Tibet and Nepal, Manali to Leh in India and the Karakoram Highway between Pakistan and China.
Hand-drawn maps mark up fuel, food and water en route and city guides will find you a bed and bite to eat whether you're in Lhasa, Kathmandu, Srinagar or Kasghar.
Author Laura Stone has spent three years researching the Himalaya on a bike; this new guide is guaranteed to illuminate, entertain and above all, inspire. *Covers the mountainous regions of Pakistan, China, Tibet, India, Nepal, Sikkim and Bhutan *Route options - levels of difficulty - road conditions - sample itineraries for 3 weeks / 6 weeks / 2 months / 3 months / 6 months *Pre-trip planning - when to go - choice of bicycle / motorcycle - kit - clothing - maps - health and safety - visas - cultural information *Route guides - practical information including mechanics and bike shops, how and where to buy or hire a bike in Asia *Over 80 original GPS route maps and elevation profiles
Information
Format: Paperback / softback
Pages: 370 pages
Publisher: Trailblazer Publications
Publication Date: 15/07/2008
Category: Cycling
ISBN: 9781905864041
Also by Laura Stone