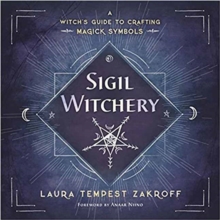 Sigil Witchery : A Witch's Guide to Crafting Magick Symbols
Paperback / softback
Description
Sigils are powerful magickal marks designed to invoke spirits and deities, influence people, or designate sacred places.
This illustrated book breathes fresh life into the contemporary practice of sigil magick, showing you an innovative approach to using marks, lines, dots, and colors to manifest your will in the world. Learn how to create designs that best support your intention by exploring the traditional and contemporary meanings of shapes, numbers, letters, language, and color.
Sigil Witchery includes tips for choosing locations, materials, and surfaces, as well as important considerations for permanent, temporary, and wearable sigils.
Sample scenarios, exercises, examples, and techniques for handdrawing lines will help you build skills and insights as you develop your own powerful sigil magick.
Information
Format: Paperback / softback
Pages: 288 pages, illus., photos, resources, index
Publisher: Llewellyn Publications,U.S.
Publication Date: 31/01/2018
Category: Witchcraft & Wicca
ISBN: 9780738753690
Also by Laura Tempest Zakroff