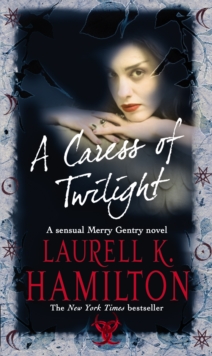 A Caress Of Twilight, A
Paperback
Description
She is Princess Meredith and she is heir to a throne - IF she can stay alive long enough to claim it.
Unlike most of her kind, Merry is part human and all too mortal, as her cousin and arch rival knows only too well.
For a deadly game is being played in the Faerie court and whoever produces an heir first wears the crown.
But as she auditions her royal guard - illustrious warriors equally at home with gun and blade or spell - for the role of future king and father of her child, Merry is somewhat distracted from her career as a private investigator.
Then, in her adoptive home, in the City of Angels, people start dying in mysterious, frightening ways.
What the human police don't realize is that the killer is hunting the Fey as well.
It seems chaos awaits, threatening the very existence of the place known as Faerie is in grave danger and Merry finds herself facing an ancient evil that threatens the very fabric of her world. And that's just the day job...
Information
Format: Paperback
Pages: 448 pages
Publisher: Transworld Publishers Ltd
Publication Date: 03/03/2003
Category: Fantasy
ISBN: 9780553813845
Free Home Delivery
on all orders
Pick up orders
from local bookshops
Reviews
Showing 1 - 2 of 2 reviews.
Review by johnthefireman
16/06/2015
A continuation of a series which is apparently about sex between different combinations of humans and/or faeries in the modern world. And somewhere amongst all that there is a plot about two characters vying for the faerie throne. Whichever one produces an heir first gets the job. But the plot development is dreadfully slow and is bogged down in idle chit-chat.
Review by ravenwood0001
16/06/2015
A Caress of Twilight begins a few months after the events in A Kiss of Shadows. It is December, and Merry and the Sidhe warriors she has chosen as her lovers have returned to Los Angeles, California. Merry is approached by Maeve Reed, previously known as the Goddess Conchenn before her exile from the Seelie Court and now a famous Hollywood actress. Maeve asks Merry to perform a fertility rite that will permit her to have a child by her dying human husband. In return, she will tell the princess that the reason for her exile. Merry's uncle, Taranis, King of Light and Illusion shows new and disturbing interest in Merry and invites her to the Seelie Court. Meanwhile, the Nameless, a spell formed to hold all the wild magics of the faerie, attacks Maeve Reed's home. It is finally defeated by Merry and her companions, Merry herself showing for the first time her second Hand of Power?the Hand of Blood. The result of the destruction of the Nameless is the release of the magic which formed it. This magic transfers itself to the victors, who begin to exhibit unforeseen side effects.