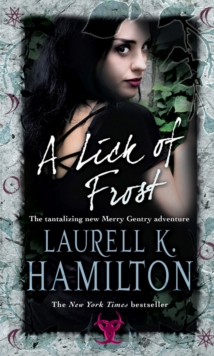 A Lick Of Frost : (Merry Gentry 6)
Paperback
Description
You know me. I am Meredith Gentry, princess and heir apparent to the throne in the realm of Faerie; one-time private investigator in the mortal world.
To be crowned queen, I must continue the royal bloodline - I must produce an heir.
To fail would allow my aunt, Queen Andais, do what she most desires: to place her twisted son, Cel, upon the throne of Faerie...and kill me.
I am surrounded by loyal guards, my best loved - sworn to protect and to love me - yet for all our eager efforts, I remain childless.
My sinister Queen and her confederates conspire against me and so my bodyguards and I have slipped back into Los Angeles.
But it seems exile is not enough to escape those with dark designs upon us.
King Taranis, vainglorious ruler of Faerie's Seelie court, has accused my guards of a heinous crime and asked the mortal authorities to pursue them.
If he succeeds, my men will face a hideous fate. I know Taranis's charges are baseless - for his true target is me.
He tried to kill me when I was a child. Now I fear his intentions are far more terrifying...
Information
Format: Paperback
Pages: 464 pages
Publisher: Transworld Publishers Ltd
Publication Date: 06/11/2008
Category: Fantasy
ISBN: 9780553819182
Free Home Delivery
on all orders
Pick up orders
from local bookshops
Reviews
Showing 1 - 3 of 3 reviews.
Review by magemanda
16/06/2015
There was a time when a new Laurell K Hamilton book was time for celebration - curling up, switching off my phone and reading until the last page had turned. Her character Anita Blake was a kick ass heroine with principles and spooky abilities. Over time (since around book 9) the Anita Blake series has headed downhill - round about the time Merry Gentry came on the scene. Originally Hamilton created Merry Gentry to get out of her system all the weird sexual kicks she clearly has, and to take the fantastical elements of her stories to new areas, but gradually both series became filled with sex, the plots collapsed and eventually my reaction to a new book in either series was 'meh'.So I picked this book up without many expectations and only because I found it cheap in a charity bookstore. However, I was pleasantly surprised. It still wasn't the page-turning supernatural horror of the early Blake books, but the story sped along and there was actually some plot to speak of.The plot is still pretty slight - in fact, it is hard to delve into any of what happened without giving away some pretty big spoilers, so I am not going to even try! I also have some other big complaints - the cast of men 'belonging' to Merry is hard to tell apart, except for a select couple. There is very little character development barring the usual monologuing that Merry does about how hard her life is. The sex is uncomfortable rather than titillating to read - especially when Hamilton adds in all the rough stuff. Finally, Merry (and Anita, to be perfectly honest) are complete Mary Sues, and it is difficult to hear about how perfect they are at everything they do.So, huge improvements on recent books, but still a lot lacking from earlier books by Ms Hamilton.
Review by wyvernfriend
16/06/2015
Merry is in LA. Working at staying alive and trying to get pregnant with the various candidates for the job of King. She's now facing the fact that Taranis wants her and isn't very stable. If he's deposed she's also a good candidate for the throne of Sidhe and she's not sure she wants that job.It's pretty much sex with a touch of plot but it kept me engaged while I was reading it. Some of the roles and uses of the various men in her life are resolved. It's a paper thin plot that doesn't cover many days but it kept me reading.
Review by lcrabtree
16/06/2015
Once again, i didn't quite get it but halfway through a series...
Also in the Merry Gentry series | View all