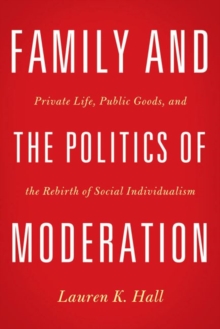 Family and the Politics of Moderation : Private Life, Public Goods, and the Rebirth of Social Individualism
Hardback
Description
In Family and the Politics of Moderation , Lauren K.
Hall argues that the family is a fulcrum upon which societal values balance.
Hall describes a set of intermediate institutions that hold the power to alter polarized political and cultural views--churches, religious institutions, local governments, social organizations, and importantly, the family.
For Hall the family moderates between broad collectivity and strict individualism.
She contends that the family as an intermediate entity wields the strength to guide society between extreme viewpoints, be they social, political, or cultural.
Family and the Politics of Moderation thus generates an imperative to ensure the survival of the family as an integral pillar of society.
Also by Lauren K. Hall