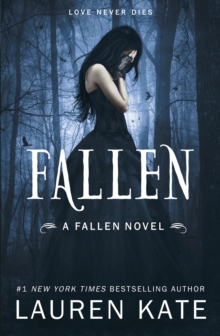 Fallen : Book 1 of the Fallen Series
Paperback
Part of the Fallen series
Description
SOME ANGELS ARE DESTINED TO FALL. Instant. Intense. Weirdly familiar . . . The moment Luce looks at Daniel she knows she has never felt like this before.
Except she can't shake the feeling that she has . . . and with him - a boy she doesn't remember ever setting eyes on. Will her attempt to find out why enlighten her - or destroy her?Dangerously exciting and darkly romantic.
Fallen is a thrilling story about forbidden love.
Information
Format: Paperback
Pages: 480 pages
Publisher: Random House Children's Publishers UK
Publication Date: 01/07/2010
Category: Fantasy
ISBN: 9780552561730
Free Home Delivery
on all orders
Pick up orders
from local bookshops
Reviews
Showing 1 - 5 of 14 reviews.
Previous | Next
Review by missyreadsreviews
16/06/2015
The story starts out with Luce being late for the tour of the new boarding school she is attending, Sword & Cross. You're introduced to a few of the characters that become a big part of the story, such as Gabbe, Cam, and Arriane. Instantly, Cam takes a liking to Luce and so does Arriane, volunteering to show her around the grounds then demanding that Luce cut her hair like her own. Soon after, Luce spots Daniel Grigori, who she is immediately attracted to. More odd than that, she feels as though this isn't her first time seeing him. When Daniel spots Luce, he gets wide-eyed right before smiling and gallantly flipping her off. Even though he was rude to her, Luce continually finds herself thinking about him and looking for him. That is until she has a run-in with Molly, who quickly welcomes her to school with a big plate of meatloaf over her head. However, thanks to Molly, Luce is introduced to Penn - the late school caretaker's daughter who decides to stay at Sword & Cross because that's where her father is buried. Although a little eccentric, Penn turns out to be a good information source for Luce. Luce and Daniel talk every once in a while, but each time she's left even more confused than before. A little less than a hundred pages into the novel, you have your first big scene of action that kind of puts the whole novel into swing - before then, it's just a bunch of introductions, Cam flirting with Luce, and you sort of get an idea of why Luce is in Sword & Cross. However, it's never really fully fleshed out in the story, which either may be a hole in the plot or something the author plans on telling in the next book. Either way, you know enough to know there was a tragic accident, she was blamed for it, and now she's in a boarding school with other "troubled teens". I'm going to stop with the play-by-play, but I will say that as the story unravels, you figure out that a lot of people are not what they seem. You also get the whole story on why Daniel seems so familiar to Luce, as well as a big back story on why they may never be able to be together.Alright, I'll admit ... I judged a book by its cover - bad. Reading the blurb on the back, I didn't really think there would be anything all that intriguing in the book. Why? I thought it would just be a book where you follow a girl who drools over some really hot guy the whole time and that's about it. I have to say that I was definitely wrong. The story is pretty wonderful. As I said in my review for Evernight, the cover would fit better on that. However, not every book has a cover that fits well with the story itself. So, I'll say that, as just a cover, it's an attention-grabber and it's very beautiful. And really, what's better than being a proud owner of a good book with a gorgeous cover? The prologue to the story is actually a flashback, with unnamed characters, but you quickly understand it as the story goes along - and it does it's job as a prologue by catching your attention, making you want to read more. The plot? As mentioned, it does have some holes and you will have some questions after you read the novel. Since it is a part of a series, I am hoping the author will fix that by answering the questions later on in the series. So, I'm going to be lenient on that until I read more of the series. I loved the characters and they fit their persona well - though I do think that Arriane lost a little of her spark as the story went along. I think she faded back a little too much and didn't keep her spunkiness that she originally started out with. There IS an epilogue that goes with the story. After you read it, you'll have a "Whhhhaaaat?!" moment, but it's a good one! It really gets your blood pumping for the next book. The writing is wonderful, as well as the point of view ... which follows Luce in third person, but you do get a grip on the surroundings too. I forgot to mention that the ending is a little heart-wrenching, but it's necessary and gets your hopes up for the sequel.
Review by deslivres5
16/06/2015
A YA fantasy romance which had a similar vibe to me as Twilight. There isn't any real suspense to the story -- it seemed easy to figure out. I didn't really like something which happens at the end, but I'm hoping that the sequel rectifies it.
Review by willowsmom
16/06/2015
Ugh. I forced myself to read the first 200 pages of this one, and then gratefully moved on. I should have gone with my gut: the synopsis made this book sound a bit too stereotyped for me--loner girl, new strange school, handsome and alluring yet mysteriously aloof boy, a forbidden love, controversy and sudden revelations, blah blah blah. The author had to work just a liiiiiiiittle too hard to repeatedly bash the reader over the head with the Mysterious! Forbidden! Star-Crossed! hammers for my taste. Plot was fairly nonexistent (girl starts school, meets new kids, moons over boy, embarrassed horribly by mean girl/self/haunted and tragic past), and I was not nearly as enamored by the characters, specifically the wet-rag heroine, as the author obviously was. Only redeeming factor: the setting. I live in Savannah, so it's always interesting to read books set in the city (or in this case the nearby town of Thunderbolt).
Review by DonnerLibrary
16/06/2015
I greatly enjoyed Fallen. The setting at the reform school is creepy, complete with swamp and cemetery. The kids that Luce meets at the school each have their role to play in the story, although it isn't always the role you would first guess. Kate does a great job of providing the reader with some information that Luce does not know through the prologue to the book but still leaving enough questions that the reader understands Luce's confusion at the mysterious events that are taking place. There is so much Luce doesn't know and Daniel and the other students cannot tell her until she is able to uncover enough knowledge on her own.As the first book in the series, Fallen leaves enough open questions to set up the next book but does provide some initial answers. There were a couple of questions that weren't answered that I fear might become loose ends if not answered quickly in the next book. I would hate to see the author mar the series by leaving open plot holes along the way. I also hope that future books in the series have covers as beautiful as this one. Fallen was a fast read for me and left me wanting to find out more about Luce and Daniel's history as well as their future.
Review by JessicaLouise23
16/06/2015
First of all I have to say that the cover for this book is GORGEOUS. Definitely one of my favourite covers ever and yes I'm one of those people who get lured in by pretty covers so I snatched this one up without knowing that much about it. After reading some reviews I found out that it's about angels and forbidden love the kinds of topics that I love so I bumped it up on the TBR pile to read soon. Wow is all I can say. When I picked it up I didn't want to stop reading I loved everything about it the writing the characters the plot. It reminded me a lot of The Summoning by Kelley Armstrong which is one of my favourite books so if you liked that I would strongly recommend Fallen. I love the title of the book as well I guess mostly it implies fallen angels but I also think it represented Luce and Daniel falling in love when their loves forbidden. I was really excited to find out that there's going to be a second book in the series Torment out in September so I'll definitely be keeping my eyes peeled for that. A lot of people have said that Fallen is very similar to another book out at the moment with yet another gorgeous cover Hush, Hush by Becca Fitzpatrick and it seems like you prefer one over the other. I have Hush, Hush waiting to be read on my bookshelf so I'm excited to read that soon and if it's as good as Fallen then I'm in for an awesome read. Loved it and would fully recommend it 5 stars from me.