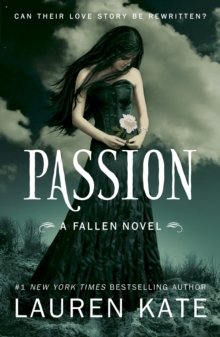 Passion : Book 3 of the Fallen Series
Paperback
Part of the Fallen series
Description
The third book in the incredible FALLEN series. Before Luce and Daniel met at Sword & Cross, before they fought the Immortals, they had already lived many lives. And so Luce, desperate to unlock the curse that condemns their love, must revisit her past incarnations in order to understand her fate.
Each century, each life, holds a different clue. But Daniel is chasing her throughout the centuries before she has a chance to rewrite history.
How many deaths can one true love endure? And can Luce and Daniel unlock their past in order to change their future?
Information
Format: Paperback
Pages: 448 pages
Publisher: Random House Children's Publishers UK
Publication Date: 01/04/2012
Category: Fantasy
ISBN: 9780552561792
Free Home Delivery
on all orders
Pick up orders
from local bookshops
Reviews
Showing 1 - 1 of 1 reviews.
Review by crashmyparty
16/06/2015
I'm a bit surprised at myself. I've finished this one rather quickly, only taking a day and a half to read it. Scarily enough, I don't know if Lauren Kate's writing has pulled me in or I'm just keen to get it all over with. Because I tell you what, I'm getting sick and tired of Luce and Daniel and angels and all their goddamn (excuse the pun) drama.At the end of Torment, Luce races off into an Announcer without any thought as to what she's doing or where she's going, leaving everyone shouting after her and in a rush to follow her to wherever and whenever the hell she's going. No surprise then that in Passion, Luce is just as thoughtless as ever. I have no idea why Daniel, Miles, Shelby & co all decided to chase her down, especially when Daniel was the only one to finally catch up with her. It took him for freaking ever and I hated his chapters even more than I hated Luce's. And guess what? At the end of all the crap we still don't know anything other than Luce falls for Daniel over and over and over again. But we don't know why. I actually can't believe that it will take until the fourth book, nearly 2000 pages into this series that we find out why they fall in love (I assume we will find out then?)This time travel thing was possibly the worst plot device ever. It was so ridiculous to follow. And I swear if I had read the word 'destiny' one more time I would have thrown the book through the window, a la Bradley Cooper in The Silver Linings Playbook (I love that scene). How is it that none of the angels could remember something clearly so important? They all just developed bad memories or something? I know it was a long time ago but still that was kinda important and the whole reason this thing keeps happening. There are too many plot holes. Luce's personality changes every reincarnation. If you have the same soul each time, wouldn't you have the same personality? It's like Daniel is in love with a different girl each time, no wonder he doesn't get bored. Why is she rich and/or privileged in so many of her reincarnations? One time she was a slave. Big deal. And how does Daniel change his appearance almost completely every time depending on where Luce turns up?You know, I was under the impression that Daniel accidentally finds Luce every time. That's not true. He seeks her out. Who does that? So you love her. And because you love her, she dies. Wouldn't that make you think, stop looking for her? Stop seeking her out and let her live a normal life! See why I am not convinced of their love? Luce gets so jealous all the time, to the point where she is jealous of the ground Daniel walks on and the relationships her past selves had with past Daniels, even though she always dies! She is ridiculously self-obsessed and I cannot believe that I couldn't read a single page without a mention of Daniel. What about your parents? What about Callie? What about Shelby and Miles? What about Trevor, Todd, Penn - the people whose deaths you are responsible for? Nope. Nothing else matters to Luce. And every time a character in this novel bagged out Luce and Daniel's relationship (Bill, Satan, Lucifer, whatever) I agreed. I totally agreed because this book is full of ridiculous trope. Paranormal is cool, but your book sucks when the relationship is not believable.