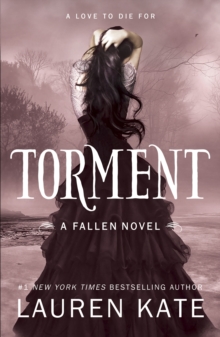 Description
Love never dies ...It took Lucinda an eternity to find her beloved angel, Daniel.
But he waited for her. Now they are forced apart again, to protect Luce from the Outcasts - immortals who want her dead.
During their separation, Luce learns about her mysterious past lives.
But the more she discovers, the more she suspects Daniel is hiding something.
What if Daniel's version of the past isn't true? Is it really their destiny to be together? Or is Luce actually meant to be with someone else? The thrilling sequel to the international bestseller, Fallen.
Information
Format: Paperback
Pages: 480 pages
Publisher: Random House Children's Publishers UK
Publication Date: 01/02/2011
Category: Fantasy
ISBN: 9780552561808
Other Formats
EPUB from £4.99
CD-Audio from £16.49
Free Home Delivery
on all orders
Pick up orders
from local bookshops
Reviews
Showing 1 - 3 of 3 reviews.
Review by summerskris
16/06/2015
Lauren Kate continues to develop the relationship between angels and demons in Torment. Here, we learn a little more about the weight that Daniel carries, about the fallen angels and Nephilim, and about what's at stake. The title itself tells us of the emotional anguish that Luce will go through in this book. Despite having just been reunited with her angel lover Daniel, Luce must part with him while he protects her from those who week to end her life for good. I missed Arriane and her wicked sense of humor, but I have to say that Shelby is a brilliant character. She is one of the few people who doesn't idolize Luce because of her relationship with Daniel —in fact, she starts off not liking Luce at all— and she is not afraid to be blunt and say what Luce needs to hear. Her relationships with Daniel and Phil also lend to the plot. Just how, I won't say here so as not to spoil anything. Overall, she's a cool girl with a don't mess with me attitude that has the power to win Molly's respect. While intentional, Daniel has been severely missing from this book. He'll do anything to protect Luce, but the way he handles the situation continuously hurts Luce and causes her to doubt their relationship. First he tells her that they can't see each other, then he sneaks into Shoreline because he misses her so much, and then he won't tell her what's going on and patronizes her, telling her that everything is for her own good. We know that he still loves her, that he sacrifices so much to keep her, but she doesn't remember anything outside of this lifetime. Luce doesn't know for sure that Daniel has not tired of her. He's absent, gone somewhere she can't follow. Consequently, it's no surprise that she starts to develop feelings for Miles, the nice kid who's always there for her. Honestly, Daniel brought this on himself, and I hope he respects Luce more in the next book (such as considering her feelings more) because I really do like him. Luce learns more about the Announcers, the shadows that have followed her throughout her life, and how to manipulate them into windows that open her to her past lives. At the same time, certain events that she spies cause her to doubt Daniel's intentions and whether her true destiny lies with him. Without Daniel there to take care of everything for her, she has more time to contemplate her feelings and to look into her past. The most touching scene for me is when she meets Vera and realizes that she and Daniel aren't the only ones affected by her many deaths. She has left behind family members and friends who cared for her. She realizes the immensity of the conflict centering on the love she shares with Daniel. Luce makes a bold decision at the end of the book to step into the past. This journey will continue to test her love with Daniel and possibly answer this nagging question I've had throughout the book. What secret is Daniel afraid of Luce uncovering? And will they learn to trust in each other's strength?
Review by talksupe.blogspot
16/06/2015
read full review on talksupe.blogspot.comTorment is two levels better than Fallen. Although I still have misgivings about the characters, the plot is more palatable this time.
Review by crashmyparty
16/06/2015
Well this book was a slight improvement on its predecessor Fallen. I still don't agree with my past self who said this about Torment:Not as good as Fallen, but a good read nonetheless. I really like the way Luce's character has developed - strong, independent and not influenced by Daniel's proclaimed love and stories. I like how she hasn't just accepted it all at face value, and is going to know more no matter who doesn't want her to. Very impressed, can't wait for the next!This time around, I found Torment to be better than Fallen. Not by much, it certainly wasn't a 'good read' but some stuff actually HAPPENED this time around. But we still have a lot of Luce being stupid and Daniel being cryptic and both of them being infuriating. A quick summary of the 'story' which I promise is much quicker than the book itself: Daniel has taken Luce away from Sword & Cross for her own protection, dumping her in a school for the byproducts of angel and human relations, the Nephilim. There she will be safe - but wait, no she won't! Because she's Luce and she continues to walk haphazardly into danger. She has a massive lapse of trust and belief in Daniel, causing her to ignore his pleas to "stay on campus" and goes off wandering in the woods, out to meet people, on a yacht and bad things happen just about every time. But this is Luce and she doesn't learn a damn thing. She is also starting to doubt her feelings for Daniel, but this doesn't stop her thinking about him on every single page. I kid you not, he is mentioned on every single page even when he's not there. There is also the introduction of another love interest, just when you thought she'd had enough. Nope! I don't know why all these guys love her so much.So Luce does things that her stupid. Granted she is working with a lack of knowledge because no one tells her anything. And there is no good reason for keeping her in the dark when she obviously just keeps walking into danger! She should have had some trust in the people who actually know stuff, once she's been told by multiple people to stay put, but they also needed to trust her with the information. I also can't believe she'd be stupid enough to wander off campus to meet Daniel because of a note when the day before he'd told her explicitly not to leave? Wouldn't that have screamed "DANGER" to most people?I think the introduction of Miles as another love interest is a bit ridiculous and it doesn't do anything to convince me of how eternal Luce and Daniel's love is, especially when you add Daniel's history with Shelby to the mix. Despite how much we are told that Luce and Daniel's love is forever, clearly Daniel gets bored of waiting and Luce is starting to question why they're in love. Hallelujah! I am not convinced of the wonderfulness of their love, especially since I've never seen them have a meaningful conversation, they've never been anything but all over each other and it just does not seem like love to me. It seems like lust and obsession and Daniel's crazy behaviour resulting in the death of the one he loves over and over again, which he seems to have just accepted. He is absolutely useless.I still don't know why so many people are after Luce and why she is so important in the grand scheme of things, because as I see it she is a nobody, she is insignificant and yet all these random people want her? There has been little to no explanation of what is really going on and rather than leaving me intrigued, all I feel is frustrated and annoyed. I am not super impressed with Luce's questioning of their eternal love because I felt it should have happened a lot earlier. I also think the whole thing with Thanksgiving was not thought about at all by the characters involved - who is going to clean up that mess?!