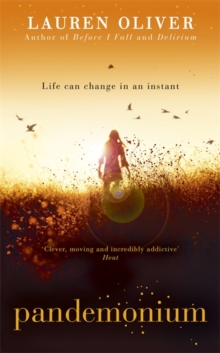 Description
Love, the deadliest of all deadly things. It kills you when you have it. And when you don't. I'm pushing aside the memory of my nightmare, pushing aside thoughts of Alex, pushing aside thoughts of Hana and my old school, push, push, push, like Raven taught me to do.
The old life is dead. But the old Lena is dead too. I buried her. I left her beyond a fence, behind a wall of smoke and flame. Pandemonium is a poignant, explosive, recklessly romantic and utterly heartbreaking novel.
Like Delirium, the first in the compelling trilogy, it will take you to the very edge.
That's all you need to know. We'll let Lena do the rest of the talking ...
Information
Format: Hardback
Pages: 336 pages, n/a
Publisher: Hodder & Stoughton General Division
Publication Date: 01/03/2012
ISBN: 9781444722925
Other Formats
Paperback from £6.49
EPUB from £3.99
Free Home Delivery
on all orders
Pick up orders
from local bookshops
Reviews
Showing 1 - 2 of 2 reviews.
Review by seekingflight
16/06/2015
I loved Lauren Oliver's Before I Fall, and quite enjoyed Delirium, the first book in this trilogy. However, I did not enjoy its sequel Pandemonium nearly so much. There was perhaps just a bit too much action for my taste, and not enough exploration of what could have been interesting and meaty questions raised by the situations in which Lena finds herself. Ultimately, it ended up feeling a little predictable, and felt somewhat superficial and lacking after the richness and complexity I found in Oliver's other books.
Review by Great_East_Road
16/06/2015
Lauren Oliver's middle name must be 'predictable', because Jesus Christ could the plot be anymore obvious? My first thought when starting this was "please don't let there be a love triangle". <br/><br/>Ten points if you can guess what happened.<br/><br/>Seriously? Love triangles are the biggest cop-out for trilogies that start with only one love interest. It's just plain lazy, &amp; it pisses me off to no end. Besides, Lena supposed to be grieving for the boy she practically watched die (or so we're lead to think at the end of the last book) &amp; never really discovered what actually happened to him. So I highly doubt she'd be over him in just half a year. <br/><br/>The rest of the plot was fairly easy to guess after she &amp; Julian get kidnapped. The only thing I was wrong about was the identity of the woman who saved Lena from the police. I thought it would be Hana, not her mother. However, I wish it had been Hana, as I'd like to know what happened to her.<br/><br/>Despite all this I didn't hate this book. I just can't say I liked it. I found the 'then' chapters a lot more interesting than the current events, as I found it very interesting to see how people lived in the Wilds. I also enjoyed the use of imagery &amp; descriptions, &amp; think this was the strongest part of the whole book. The scene describing the ruin of a town in the Wilds that had been overgrown was just beautiful. I dare say that this is what saved the book.<br/><br/>Will I be reading the next book? I've yet to decide.
Also in the Delirium Trilogy series