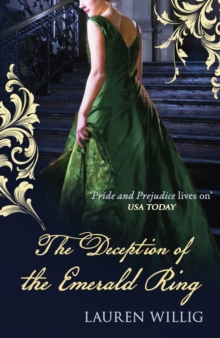 The Deception of the Emerald Ring
Paperback
Description
'All in readiness. An unmarked carriage will be waiting for you behind the house at midnight'.
History student Eloise Kelly is in London looking for more information on the activities of the infamous 19th century spy, the Pink Carnation, while at the same time trying to keep her mind off the fact that her mobile phone is not ringing and her would-be romantic hero Colin Selwick is not calling.
Eloise is finally distracted from checking for messages every five minutes by the discovery of a brief note, sandwiched amongst the papers she's poring over in the British Library.
Signed by Lord Pinchingdale, it is all Eloise needs to delve back in time and unearth the story of Letty Alsworthy and the Pink Carnation's espionage activities on the Emerald Isle.
Information
Format: Paperback
Pages: 448 pages
Publisher: Allison & Busby
Publication Date: 06/09/2010
Category: Historical romance
ISBN: 9780749008673
Free Home Delivery
on all orders
Pick up orders
from local bookshops
Reviews
Showing 1 - 1 of 1 reviews.
Review by AdonisGuilfoyle
16/06/2015
Before I start, I just have to get one tiny detail out of my system: Enough with dressing women in breeches! One character even points out how ludicrous such disguise would be - 'Although how anyone could take one look at Letty in those trousers and believe her a man ...' - yet there is a whole host of female spies/French agents/clinging wives running around in ill-fitting masculine get-up in this instalment of the Pink Carnation series.Pants aside, I am really starting to enjoy each and every one of Lauren Willig's novels (bar the first, oddly). I love the <i>Scarlet Pimpernel</i> in-jokes ('the League merrily went its own way, freeing prisoners from the Temple prison, filching secret documents, and generally doing everything in their power to harry the assistant to the minister of police into a preciptate decline'), the complementary narratives of Georgette Heyer's 1803 and modern day chick lit in 2003 (Eloise's 'Ken doll' observation made me laugh), and the mostly endearing matching of couples. Eloise and Colin are taking their time, but Letty and .. Geoff .. (a truly terrible and ill-fitting name for any hero - even Sir Percy fared better) are two of my favourites, after Charlotte and Robert and Miles and Henrietta (that's nearly everyone but Amy and Richard, you may note). I didn't think I would enjoy the <i>Emerald Ring</i> - named for the oversized betrothal ring given to Letty on her ill-fated wedding day - being a story set in nineteenth century Ireland and written by an American author, but Willig is far from biased towards 'the Old Country' of her character, and skilfully weaves yet another historical event into her fictional world.Recommended, even when read out of order - although getting books three and four in sequence would probably add weight to Mary's story!