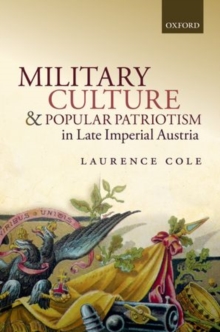 Military Culture and Popular Patriotism in Late Imperial Austria
Hardback
Description
Military Culture and Popular Patriotism in Late Imperial Austria examines the interplay between popular patriotism and military culture in late imperial Austria.
Laurence Cole suggests that two main questions should be asked regarding the western half of the Habsburg Monarchy during the period from the mid-nineteenth century to the outbreak of war in 1914.
Firstly, how far did imperial Austrian society experience a process of militarization comparable tothat of other European countries?
Secondly, how far did the military sphere foster popular patriotism in the multinational state?Various manifestations of military culture, including hero cults and, above all, military veterans associations, provide the main subject for analysis in this volume.
After exploring the historical development of military culture in the Habsburg Monarchy, Cole explains how the long reign of Emperor Franz Joseph I constituted a decisive phase in the militarization of Austrian society, with the dynasty and state emphasizing the military's role as the locus of loyalty.
Popular manifestations ofmilitary culture, such as the hero cult surrounding Field Marshal Radetzky and military veterans associations, complemented the official agenda in many respects.
However, veterans associations in particular constituted a political mobilization of the lower middle and lower classes, who asserted theirown interests and position in civil society, as is shown by case studies of regions of the Austrian state with significant Italian-speaking populations (Trentino and the Littoral).
State attempts to assert greater control of veterans activities led to national and political opposition at a time when tensions over 'militarism' and foreign policy increased.
Military Culture and Popular Patriotism in Late Imperial Austria thus raises the question of whether the military was really abulwark of the multinational state or rather a polarizing force in imperial Austrian society.
Information
Format: Hardback
Pages: 376 pages, several black and white illustrations and maps
Publisher: Oxford University Press
Publication Date: 03/07/2014
Category: European history
ISBN: 9780199672042
Free Home Delivery
on all orders
Pick up orders
from local bookshops