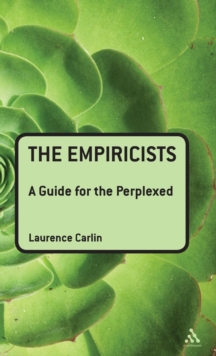 The Empiricists : A Guide for the Perplexed
Hardback
Description
This work offers a concise and accessible introduction to the key empiricists of the 17th and 18th centuries, ideal for undergraduate students.
Empiricism is one of the most widely discussed topics in philosophy.
Students regularly encounter the well known opposition between rationalism and empiricism - the clash between reason and experience as sources of knowledge and ideas - at an early stage in their studies. "The Empiricists: A Guide for the Perplexed" offers a clear and thorough guide to the key thinkers responsible for developing this central concept in the history of philosophy.
The book focuses on the canonical figures of the empiricist movement, Locke, Berkeley and Hume, but also explores the contributions made by other key figures such as Bacon, Hobbes, Boyle and Newton.Laurence Carlin presents the views of these hugely influential thinkers in the context of the Scientific Revolution, the intellectual movement in which they emerged, and explores in detail the philosophical issues that were central to their work. Specifically designed to meet the needs of students seeking a thorough understanding of the topic, this book is the ideal guide to a key concept in the history of philosophy. "Continuum's Guides for the Perplexed" are clear, concise and accessible introductions to thinkers, writers and subjects that students and readers can find especially challenging - or indeed downright bewildering.
Concentrating specifically on what it is that makes the subject difficult to grasp, these books explain and explore key themes and ideas, guiding the reader towards a thorough understanding of demanding material.
Free Home Delivery
on all orders
Pick up orders
from local bookshops
Also in the Guides for the Perplexed series | View all