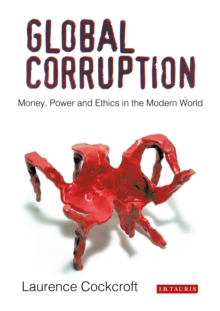 Global Corruption : Money, Power and Ethics in the Modern World
Paperback
Description
Corruption is a key factor in sustaining appallingly high levels of poverty in many developing countries, particularly in relation to the poor provision of basic services such as education and health.
It is also a major reason why growth-rate increases in Africa and South Asia have failed to benefit large segments of the population.
Corruption drives the over-exploitation of natural resources, capturing their value for a small elite - whether timber from Indonesia or coltan from the Congo.
In the developed world, corrupt party funding undermines political systems and lays policy open to heavy financial lobbying. In this book Laurence Cockcroft shows how corruption has to be seen as the result of the interplay between elite 'embedded networks', greed and organized crime.
The growth of corruption has been facilitated by globalization, the integration of new and expanding markets into the world economy, and the rapid expansion of 'offshore' financial facilities, which provide a home to largely unregulated pools of finance derived from personal fortunes, organized crime and pricing malpractice in international trade. This book shows how the current international interest in corruption follows the fifty years of the Cold War in which corruption was regarded in international policy-making circles as off the table.
Cockcroft describes the change of attitude from the 1990s onwards and the initiatives which have been designed to combat corruption over the last twenty years - from individual prosecutors, to governments, to civil society, and to progressive business - and assesses their impact to date.
The modest and uneven progress made indicates that corruption is a continuing threat - and one which is likely to become one of the most serious problems of the twenty-first century.
Information
Format: Paperback
Pages: 288 pages, 12 bw in 8pp plates
Publisher: I.B.Tauris & Co. Ltd.
Publication Date: 30/11/2013
Category: Ethical issues & debates
ISBN: 9781780767604
Free Home Delivery
on all orders
Pick up orders
from local bookshops