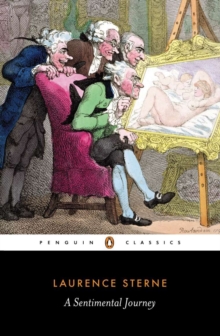 A Sentimental Journey
Paperback
Description
A furiously witty response to Tobias Smollett's curmudgeonly 'Travels through France and Italy', Laurence Sterne's A Sentimental Journey through France and Italy became a hugely influential work of travel writing in its own right.
This Penguin Classics edition includes an introduction and notes by Paul Goring.When Yorick, the roving narrator of Sterne's innovative final novel, sets off for France on a whim, he produces no ordinary travelogue.
Jolting along in his coach from Calais, through Paris, and on towards the Italian border, the amiable parson is blithely unconcerned by famous views or monuments, but he engages us with tales of his encounters with all manner of people, from counts and noblewomen to beggars and chambermaids. And as drama piles upon drama, anecdote, flirtation and digression, Yorick's destination takes second place to an exhilarating voyage of emotional and erotic exploration.
Interweaving sharp wit with warm humour and irony with genuine feeling, A Sentimental Journey paints a captivating picture of an Englishman's adventures abroad.In his introduction, Paul Goring discusses Sterne's literary career and his semi-autobiographical depiction of Yorick, and sets the novel within the context of eighteenth-century travel writing and the vogue of sentimental fiction.
This edition also includes a chronology, updated further reading and notes.Laurence Sterne (1713-1768) graduated from Cambridge in 1737 and took holy orders, becoming a prebend in York Cathedral.
His masterpiece, The Life and Opinions of Tristram Shandy, Gentleman made him a celebrity but ill-health necessitated recuperative travel and A Sentimental Journey grew out of a seven-month trip through France and Italy.
He died the year it was published, 1768.If you enjoyed A Sentimental Journey, you might like Sterne's The Life and Opinions of Tristram Shandy, Gentleman, also available in Penguin Classics.
Information
Format: Paperback
Pages: 176 pages
Publisher: Penguin Books Ltd
Publication Date: 29/11/2001
Category: Literary essays
ISBN: 9780140437799
Other Formats
Paperback from £1.99
EPUB from £1.29
Paperback / softback from £12.85
Free Home Delivery
on all orders
Pick up orders
from local bookshops
Reviews
Showing 1 - 4 of 4 reviews.
Review by tortoisebook
16/06/2015
This is the tale of a monk, Yorick, who embarks on a journey across the English Channel to Calais and on to Paris. He then sets out through France towards Italy, meeting a variety of characters and getting into tricky situations along the way, and that is as far as the story gets. Unfortunately the author, Laurence Sterne, succumbs to consumption before he has finished his book.The book was first published in 1768 so pre-dates the golden age of classic literature. The language is hard to grasp to begin with although the story begins to flow better as the book goes on. The book has some humour in it and is one of the earliest forms of travel writing by the leisurely tourist - perhaps Sterne was the Bill Bryson of his day.I can't say I enjoyed this book. I can see that it stands as an early example of travel writing and is of interest to anyone who enjoyed Sterne's other work, principally Tristram Shandy (which I haven't read) but, for me, it didn't stand up as a novel to be read for pleasure. It ends so abruptly that I wondered what the point was of reading it at all. I was looking forward to an insight into 18th century France and Italy and I didn't really get that.
Review by Snakeshands
16/06/2015
Sterne wanders around talking to swindlers and fops and very nice peasant folk, and keeps getting terribly attracted to women who he tells us of COURSE he did nothing with! A nice bit o' life-loving fluff from the guy who brought us Tristram Shandy. Too bad he didn't get to get into it further before he died.
Review by edwinbcn
16/06/2015
Within the genre of travelogues, two approaches can be distinguished. There are those authors who describe fore-mostly the places, and the habits of the people they visit, from an anthropological point of view, and there are those who describe the people they meet on their travels from a more humanistic point of view, as equals, so to speak. An example of the first type of travelogue would be Daniel Defoe's A tour through the whole island of Great Britain, which was published in 1724. Laurence Sterne's fictional A Sentimental Journey Through France and Italy was published a few decades later in 1768. By this time, travel to the continent had become fashionable.In Sterne's A sentimental journey, his alter ego Yorick, which contemporary readers would know as a clergyman, travels to Paris, supposedly on his way to Italy. However, the story develops very slowly, and for the larger part the story is set in the environs of Paris, indicated but scantily.If the book is humourous or witty, it is not clear in which way. Supposedly, various sketches or situation would be humourous to contemporaries of Sterne but the humour is lost on contemporary readers. In fact, A sentimental journey seems a rather boring little book, and all pleasure to be had from it can only be found by studying the introduction carefully which explains where to look for it. Even then, the notes in the annotated Penguin edition merely clarified what should already be clear to the educated reader, while leaving many possible clues unexplained.
Review by stillatim
16/06/2015
Another great example of why you need to really think about what a book's trying to do before you judge it. This is nice and subtle- on the one hand, it tugs the heart-strings unashamedly; on the other hand, it makes ruthless fun of you for having your heart-string tugged. Great stuff- unless you're expecting well rounded three dimensional characters and believable plot turns and a coherent narrative and so on. Not here, friendo. Here you get intriguing reflections on the general goodness/evilness of humankind, and jokes at the expense of people who think you can make general reflections on morality in that way. I wish he'd been able to add a couple of volumes to it; the whole enterprise is so clever and so much less brow-beating than Tristram Shandy that it might've ended up being one of the best books I'd read. As is, it's pretty darn-tootin good.