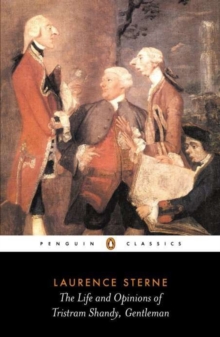 The Life and Opinions of Tristram Shandy, Gentleman
Paperback
Description
Endlessly digressive, boundlessly imaginative and unmatched in its absurd and timeless wit, Laurence Sterne's The Life and Opinions of Tristram Shandy, Gentleman is edited with an introduction by Melvin New and Joan New, and includes a critical essay by Christopher Ricks in Penguin Classics.Laurence Sterne's great masterpiece of bawdy humour and rich satire defies any attempt to categorize it, with a rich metafictional narrative that might classify it as the first 'postmodern' novel.
Part novel, part digression, its gloriously disordered narrative interweaves the birth and life of the unfortunate 'hero' Tristram Shandy, the eccentric philosophy of his father Walter, the amours and military obsessions of Uncle Toby, and a host of other characters, including Dr Slop, Corporal Trim and the parson Yorick.
A joyful celebration of the endless possibilities of the art of fiction, Tristram Shandy is also a wry demonstration of its limitations.The text and notes of this volume are based on the acclaimed Florida Edition, with a critical introduction by Melvyn New and Christopher Ricks's introductory essay from the first Penguin Classics edition.Laurence Sterne (1713-1768) graduated from Cambridge in 1737 and took holy orders, becoming a prebend in York Cathedral.
His masterpiece, The Life and Opinions of Tristram Shandy, Gentleman made him a celebrity but ill-health necessitated recuperative travel and A Sentimental Journey grew out of a seven-month trip through France and Italy.If you enjoyed The Life and Opinions of Tristram Shandy, you might like Henry Fielding's Tom Jones, also available in Penguin Classics.'The excellent Florida Tristram Shandy ... will be the definitive edition'Studies in English Literature'The book that I would never tire of ...
Sterne was about 250 years ahead of his time'Roy Porter, author of Enlightenment: Britain And The Creation Of The Modern World
Information
Format: Paperback
Pages: 784 pages
Publisher: Penguin Books Ltd
Publication Date: 27/03/2003
Category: Classic fiction (pre c 1945)
ISBN: 9780141439778
Other Formats
Paperback from £5.99
EPUB from £2.99
Paperback / softback from £13.59
Free Home Delivery
on all orders
Pick up orders
from local bookshops
Reviews
Showing 1 - 5 of 12 reviews.
Previous | Next
Review by PaulMysterioso
16/06/2015
I'm not certain what it is about Irish writers and their wonderfully eccentirc sense of humour and their ability to turn conventional writing inside out and produce something rich and strange. Swift, Joyce, O'Brien, Beckett and Laurence Sterne are all in a lineage.The Life and Opinions of Tristram Shandy, Gentleman is a classic comic novel, written as an autobiography of Tristram Shandy, it is really about his uncle Toby and from the beginning, the novel takes wild digressions which, by the time you finish the novel, lead you right back to where you started.
Review by kbergfeld
16/06/2015
Brilliantly fun! The post modern book before there was post modernism. Quite a lot of fun, but I do highly recommend reading this with a group as the humor is one that is fun to share and laugh out loud with, but also helps clarify points.
Review by isabelx
16/06/2015
Is it not a shame to make two chapters of what passed in going down one pair of stairs? for we are got no further yet than to the first landing, and there are fifteen more steps down to the bottom; and for aught I know, as my father and my uncle Toby are in a talking humour there may be as many chapters as steps; - let that be as it will, Sir, I can no more help it than my destiny:Tristram Shandy is one of my father's favourite books and he passed this copy onto me about four years ago. Two days after I started it, I found out that a film (starring Steve Coogan, Rob Brydon and Gillian Anderson) has just been made of this notoriously unfilmable novel and has been getting rave reviews at film festivals. It's due out here in the New Year, so reading the book now was very good timing on my part.The shaggy dog story to end all shaggy dog stories. Supposedly the autobiography of Tristram Shandy, it is really a novel about how novel-writing and how a novel can't really hope to represent real life. Hardly a chapter goes by without yet another digression from the main story, as Tristram decides that we really need to know some other bit of background before he can continue with the action, and he only gets round to the author's preface towards the end of volume 3! It is a very funny book but quite heavy going, what with the 18th century language and the plethora of technical terms to do with siege-works causing continual flicking to the notes at the back of the book, so it has taken me getting on for four weeks to read.Favourite character: The wonderfully enthusiastic and sweet-natured Captain Shandy (Tristram's Uncle Toby).Most frustrating digression: Tristram's trip to France, which has nothing to do with the story and takes up the whole of Volume VII, just as he seems on the point of finally getting round to telling the story of Uncle Toby's relationship with widow Wadman. Best use of asterisks: The maid Susanna, who has forgotten to put a ******* *** under the five-year-old Tristram's bed, asking him to **** *** ** *** ******.
Review by kritikarr
16/06/2015
One of my all-time favourite novels! You would not believe it was written in the 18th century for all the literary experiments it contains (black pages, crazy lines to illustrate the plot development...). Some readers may be frustrated with the rambling narrative, but if it suits your sense of humour like it does mine, you will love it. Really, it's just stark raving mad! Suck it, Martin Amis! This classic kicks some postmodern ass...
Review by librarianbryan
16/06/2015
Sorry, I could not finish this. I made it to about page 250. Which was better than anyone else in my book club. I felt better knowing no one else could finish it either.The same joke — 18th century English gentry's formal speech is funny ha ha ha — for 600-800 pages depending on the edition you pick up is a bit much. Maybe there was something of a language gap? Yes, but everyone in my book club agreed that when we read Shakespeare we don't have the same problem. When we read Grandpa Willie we read it and laugh and are amazed. Not so much with Sterne. I chuckled through first 30 pages and the rest was grind. It's worth noting Shandy was originally published in installments so no one in the 18th century was hitting an 800 page monster.I admit there is probably a lot more going on thematically than I realize since I didn't finish. Sometimes the aboutness of a work grows like a benign tumor (or maybe a malignant tumor in the case of a book like <i>Infinite Jest</i>). I reluctantly acknowledge my ignorance and bow out. I wouldn't feel so bad about myself if the book I am reading in lieu of finishing <i>Shandy</i> wasn't John Krakauer's book about Pat Tillman. It feels low. Maybe that is not so bad. Maybe that is like choosing to watch <i>Frontline</i> over <i>Masterpiece Theatre</i>.