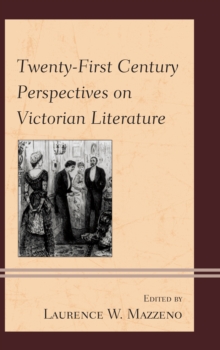 Twenty-First Century Perspectives on Victorian Literature
Hardback
Description
Victorian literature's fascination with the past, its examination of social injustice, and its struggle to deal with the dichotomy between scientific discoveries and religious faith continue to fascinate scholars and contemporary readers.
During the past hundred years, traditional formalist and humanist criticism has been augmented by new critical approaches, including feminism and gender studies, psychological criticism, cultural studies, and others. In Twenty-First Century Perspectives on Victorian Literature, twelve scholars offer new assessments of Victorian poetry, novels, and nonfiction.
Their essays examine several major authors and works, and introduce discussions of many others that have received less scholarly attention in the past.
General reviews of the current status of Victorian literature in the academic world are followed by essays on such writers as Charles Dickens, Alfred Tennyson, Thomas Hardy, and the Bronte sisters.
These are balanced by essays that focus on writing by women, the development of the social problem novel, and the continuity of Victorian writers with their Romantic forebears. Most importantly, the contributors to this volume approach Victorian literature from a decidedly contemporary scholarly angle and write for a wide audience of specialists and non-specialists alike.
Their essays offer readers an idea of how critical commentary in recent years has influenced-and in some cases changed radically-our understanding of and approach to literary study in general and the Victorian period in particular.
Hence, scholars, teachers, and students will find the volume a useful survey of contemporary commentary not just on Victorian literature, but also on the period as a whole.