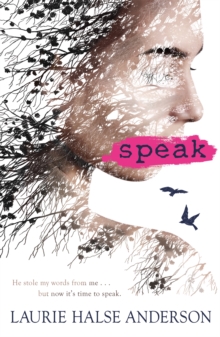 Description
From her first moment at Merryweather High, Melinda Sordino knows she's an outcast. She busted an end-of-summer party by calling the cops.
Now her old friends won't talk to her, and people she doesn't know glare at her. No one knows why she called the police, and she can't get out the words to explain.
So she retreats into her head, determined not to think about it. But, try as she might, it just won't go away...
Information
Format: Paperback
Pages: 240 pages
Publisher: Hachette Children's Group
Publication Date: 20/03/2008
ISBN: 9780340950777
Free Home Delivery
on all orders
Pick up orders
from local bookshops
Reviews
Showing 1 - 2 of 2 reviews.
Review by Fluffyblue
16/06/2015
Excellent young adult fiction, dealing with some quite difficult issues.Sensitive and well written, this book deals with a horrible event in a teenager's life, and how she grows and begins to live in the real world again.Highly recommended read.
Review by elliepotten
16/06/2015
I first read this book at the age of perhaps 11 or 12, and really didn't understand what all the fuss was about. Why? Well, I'd only been at secondary school for about ten minutes, had no knowledge of sexual violence, and thus didn't really appreciate the level of 'reading between the lines' that is required in order to catapult this book up to greatness.This time around I absolutely loved it! On the surface it is the story of Melinda Sordino, a thirteen year-old girl starting high school for the first time. Unfortunately, Melinda has recently alienated her entire group of best friends - amongst others - by calling the police from a party over the summer. What her ex-friends don't know is why she called the police: she was raped at the party by the hottest boy in school. Which brings us to what's going on under the surface - because this isn't just some flighty <i>Mean Girls</i> novel about an unpopular girl in high school. It's really about a young woman slowly healing after a terrible experience, finding her voice, discovering her own strength, and finally being able to speak out about what happened to her. And what a beautifully evoked journey it is...Not only is the writing deceptively simple and frequently gorgeous, but what really surprised me was how much humour runs through this book! I didn't remember that at all from my first reading, so I was delighted to discover that Anderson has a marvellous knack of combining sparkling wit with troubling themes to offer a reading experience that has it all - it's funny but truthful, sarcastic but airy, tongue-in-cheek but very moving.One thing I absolutely loved was the idea of art as therapy. Early in the book, Melinda's unconventional and completely awesome art teacher allocates each student an object that will form the basis of their work that year, across as many media and styles as they care to try. Melinda's object is 'tree'. Not only does this offer a metaphor for Melinda's personal growth, strength and return to life as the novel goes on, but her artistic efforts, and Mr Freeman's enthusiastic mentoring, become the means for her to learn self-expression and explore her feelings in new ways. She keeps her work in a deserted janitor's closet (like a mini staffroom), which she cleans, personalises and adapts into her own little sanctuary.I think these elements of the novel particularly struck a chord with me because I, albeit for different reasons, found similar refuge within my school environment as a teenager. Like Mr Freeman's art room, ours was light, bustling, relaxed, and always open to students during breaks and lunchtimes. I'd tag along with friends who were taking art and spend time doing homework, eating lunch, singing along to the radio, and ogling my crush, a shy boy from the year above who was also a proficient artist and could usually be found hiding away in the art room with his best friend. My 'janitor's closet' was an upstairs classroom, my Mr Freeman a history teacher who would quietly unlock the door for me and unceremoniously throw out any rowdier groups who dared to invade by pretending I was in detention! Like Melinda, I found that having somewhere peaceful to go made school more bearable.In conclusion, this is a truly fantastic novel. Despite being published fifteen years ago (so around the time I first read it, rather scarily), it still has a wonderful blend of humour and truth, a school setting that is still relatable now, and a strong and inspiring message about sexual violence, self-expression, and having the confidence to speak UP and speak OUT against people who have hurt us and experiences no one should have to endure alone. This is definitely a story that will stick with me this time around - I may even buy my own copy to keep - and I can't wait to read <i>Wintergirls</i>, which is already installed on my TBR shelves!
Also by Laurie Halse Anderson | View all