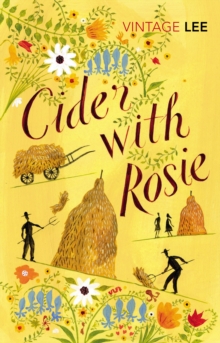 Cider with Rosie
Paperback
Description
"Cider with Rosie" is a wonderfully vivid memoir of childhood in a remote Cotswold village, a village before electricity or cars, a timeless place on the verge of change.
Growing up amongst the fields and woods and characters of the place, Laurie Lee depicts a world that is both immediate and real and belongs to a now-distant past.
Information
Format: Paperback
Pages: 256 pages
Publisher: Vintage Publishing
Publication Date: 28/05/2002
Category: Autobiography: general
ISBN: 9780099285663
Other Formats
Paperback from £9.99
Hardback from £12.35
EPUB from £5.49
Free Home Delivery
on all orders
Pick up orders
from local bookshops
Reviews
Showing 1 - 4 of 4 reviews.
Review by Clurb
16/06/2015
Marvellous. Makes me want to go scrumping and keep a slice of buttered bread in my pocket. A deeply moving book, comic and upsetting in turns.
Review by debnance
16/06/2015
Laurie Lee grew up in a rural part of England during thetime just after the Great War. His father abandoned his mother witheight children to raise. Lee was almost always hungry and cold. Butlife never seemed hard; somehow it seemed joyous and delightful.I was especially taken with the chapter about the devilments childrenand young people got into during Lee's time. Back in Lee's day, astoday, terrible things happened. But somehow the village and itspeople just seemed to deal with them, not making them into events ofenormous evil as we seem to do today.I loved reading about the day to day living of Lee during hischildhood. Everything seemed so much more alive then, with things totaste and touch and smell. Lee revels in his life. The stories hetells makes the time seem glorious.
Review by PilgrimJess
16/06/2015
"Never to be forgotten, that first long secret drink of golden fire,juice of these valleys and of that time,wine of wild orchards,of russet summer,of plump red apples,and Rosie's burning cheeks.Never to be forgotten, or ever tasted agin........."Firstly let me admit that I'm a fan of history and not just battles, Kings, Queens, dates etc but socila history as well. This is a book of a slice social history.We see a life set around the family kitchen, early school years,family and friends but in particular the various seasons of nature.'Cider With Rosie' is a tale of the author's early life growing up within a large family, without a real father figure influence,in a Cotswold village in and around the 1920s and is told from the standpoint of a child. However, in many respects it is a tale told in a series of short stories as it concentrates on differing elements of a simple and insular village life before the arrival of the motor car. Now I personally loved the chapter about the 'Grannies in the Wainscot' in particlar. Two old ladies, so differing in their characters who despite living as neighbours never once spoke to one another yet whose lives were regulated by each others very presence. It is not a story told with any real angst or through rose tinted glasses it is just told as it was, plainly and matter of factly just as is the rest of the book. We see a life set around the family kitchen, early school years,family and friends but in particular the various seasons.Laurie Lee was a poet and a screen-writer as well as a novelist and this shines through in his choice of language. It starts when the author is but a toddler recalling some of his earliest memories. Here his world is large, scary, cosy and baffling, a world dominated by females and the language reflects this. Lee's real skill is that as the child grows so does his vocabulary as in normal life but never does the child's voice leave it. The language is always beautiful and so suggestive it takes you in and wraps about you like a blanket.In many ways it is a book of nostalgia, a book of a by-gone time but it is also an illustration of writing about what you know. It is seen by many as a modern classic and rightly so IMHO.
Review by infjsarah
16/06/2015
This was a reading group book and it is unfortunately all the things that turn me off books - autobiography, lots and lots of description of nature et al and nothing actually happens.I can see why many people love it but it did nothing for me.