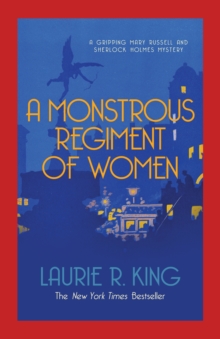 A Monstrous Regiment Of Women
Paperback
Description
It is 1921 and Mary Russell--Sherlock Holmes's brilliant apprentice, now an Oxford graduate with a degree in theology - is on the verge of acquiring a sizable inheritance.
Independent at last, with a passion for divinity and detective work, her most baffling mystery may now involve Holmes and the burgeoning of a deeper affection between herself and the retired detective.
Russell's attentions turn to the New Temple of God and its leader, Margery Childe, a charismatic suffragette and a mystic, whose draw on the young theology scholar is irresistible.
But when four bluestockings from the Temple turn up dead shortly after changing their wills, could sins of a capital nature be afoot?
Holmes and Russell investigate, as their partnership takes a surprising turn.
Information
Format: Paperback
Pages: 320 pages
Publisher: Allison & Busby
Publication Date: 01/02/2013
Category: Historical mysteries
ISBN: 9780749014995
Free Home Delivery
on all orders
Pick up orders
from local bookshops
Reviews
Showing 1 - 1 of 1 reviews.
Review by reading_fox
16/06/2015
As I sadly suspected, no-where near as good as the first. Holmes is pushed back into an silent backstage character, and Russell's religiosity takes far too much centre stage. leading to the frankly laughable ending. At the time of emancipation and Parkhurst sisters leading the Suffragettes in a struggle for The Vote after the social upheaval of the first world war had ended, one of Mary'f friends introduces her to a passionate and emotive speaker gathering a female led group together. Mary is of course supportive but at the same time slightly suspicious of an ulterior motive. The death and serious wounding of a couple of the more well endowed followers leads her to further doubt. However the miraculous recovery of the ringleader after Mary had found her seriously wounded by a savage beating, restores some of Mary's trust - and throws the reader into serious disbelief. It is a jarring passage that completely contradicts everything known about Mary's personality and ruins the concept of the series. Miraculous healing has no place in a Sherlock Holmes story, or any pseudo-historical fiction nominally set in the "real world". The irony of Holmes complaining about Doyle believing in fairies was not lost on me.There is very little deduction happening either, and in general it far more replicates the disappointing end quarter of the first book than the glorious first three quarters of it.