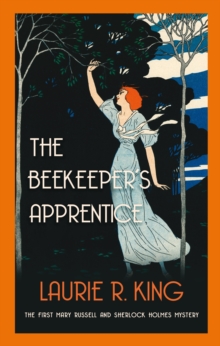 Beekeepers Apprentice
Paperback
Description
1915. The great detective Sherlock Holmes is retired and quietly engaged in the study of honey bees when a young woman literally stumbles into him on the Sussex Downs.
Fifteen years old, gawky, egotistical, and recently orphaned, the young Mary Russell displays an intellect to impress even Sherlock Holmes - and match him wit for wit.
Under his reluctant tutelage, this very modern twentieth-century woman proves a deft protegee and a fitting partner for the Victorian detective.
In their first case together, they must track down a kidnapped American senator's daughter and confront a truly cunning adversary - a bomber who has set trip-wires for the sleuths and who will stop at nothing to end their partnership.
Information
Format: Paperback
Pages: 448 pages
Publisher: Allison & Busby
Publication Date: 08/07/2010
Category: Historical mysteries
ISBN: 9780749008529
Free Home Delivery
on all orders
Pick up orders
from local bookshops
Reviews
Showing 1 - 4 of 4 reviews.
Review by pierthinker
16/06/2015
The central conceit of this book is that Sherlock Holmes is a real person - the stories written by Dr. Watson who was mentored by Conan Doyle are a fictional take on what really happened - who has retired to a life of beekeeping in the English countryside. He meets Mary Russell, a young girl who he slowly trains to be his assistant - more a Robin than a Watson. By now it is the early 1920s and we are off and running.Laurie King has developed a writing style reminiscent of Conan Doyle and makes her stories as seamless as possible with the Canon (as the great Sherlock Holmes stories are collectively referred to).This is a great original idea. The stories are well executed and thrilling without being fantastical, probing the psychology of Holmes and Russell and their growing relationship very well. This is the first book in a very successful series, suffering slightly from too much scene-setting and 'origins' exposition, but very entertaining nonetheless.
Review by murderbydeath
16/06/2015
I started reading this because I had read Laurie King's short story in the Sherlock anthology she edited a few months ago, and I really liked how her story felt like a plausible Sherlock Holmes story - she was true to what I saw in the character of the world's greatest detective.<br/><br/>This story didn't disappoint - I'd like to think Sir Arthur Conan Doyle himself would be pleased with the book. True, it showed a slightly more human Sherlock, but since it's told from a female viewpoint, it's plausible (Sherlock was always a gentleman with the ladies in his cases). His cold logic, however, and certain lack of humanity, were still there to be seen. The book covers a lot of time - about 4 (5?) years and more than a few cases, ranging from trivial to life-changing. I enjoyed the narrative of Mary Russell, and I appreciated the austere style of writing.<br/><br/>I'd recommend this book to anyone who's read the Sherlock Holmes cannon and wants to keep visiting with the man. Be sure to read the Editor's preface - it threw me for a loop and I still don't know wether to believe it to be true or not, but it certainly puts a different spin on one's reading.
Review by ClicksClan
16/06/2015
Took me a while to get into, a bit slow to start but sped up in the second half.Felt like Mary was a bit of a Mary Sue; tragic past, super intelligent, other characters in awe of her. She did grow on me though.Obviously setting up for romance between Mary and Sherlock. Thought it was weird at first with her just being 15 but she grows up and matures through the story.
Review by thorold
27/08/2015
This is an affectionate and very entertaining romp through the fringes of Sherlock Holmes country, written by someone with a very good ear for the flow of the original Sherlock Holmes stories and the professional competence as a writer to get away with a pastiche that doesn't read like internet-grade fan-fiction. Most of the obvious flaws are not introduced by King, but stem from weaknesses in the original. Sir Arthur was writing sensational fiction to meet Edwardian popular tastes: a century later we're a bit less willing to accept plots that rely on disguises, obscure ciphered messages and the ability to follow a line of footprints across a busy London park. King's faithful revival of the format makes these weaknesses a bit more obvious. Bringing in an intelligent, assertive young woman — you notice how hard I'm trying not to use the word "feisty"? — as Holmes's pupil and counterpart helps to give us a modern slant on the stories, but it also exposes the trick behind the whole Holmes mystique: if you have two characters who are <i>both</i> logical reasoning machines with interesting flaws, you start to see how it's done. Modern detectives are expected to have a little more depth, really.As well as being a mystery, this is also an historical novel, of course. And the great challenge of writing historical fiction set in the recent past is that a lot of your readers are going to be more or less familiar with the language, history, and conventions of the period. You don't necessarily have to write in pastiche period style, but you do have to be careful not to introduce words or descriptive details that jar with the illusion. This is tricky: sometimes the requirements of plausibility conflict with pure accuracy, and sometimes both have to take second place to the plot. King does a pretty good job in this respect. She has covered herself in advance by leaving it unclear when the text is supposed to have been written and by giving her narrator a mixed Anglo-American background (this not only pleases the punters in the US, but also provides a good excuse for any inadvertent Americanisms). The setting in the last years of the great War is also a good choice, because it was a period in which there are plenty of examples of intelligent, dynamic young women making their mark on English society (Rebecca West, Dorothy L Sayers, the Pankhursts, Winifred Holtby and Vera Brittain, etc., etc.). The text has very few obvious anachronisms in it (one that annoyed me was "train station", an expression that didn't exist either in British or in American English until about 25 years ago). The most glaring anachronism I saw was a reference to the Welsh counties of Gwent and Powys, which were only created in the seventies (Monmouthshire, Brecon and Radnor would be right for the period). The language is occasionally a little bit awkward and stilted, but that can plausibly be explained away by the pernicious example of Doctor Watson's prose. Oxford is dangerous ground, because we have so many first-hand accounts of it at that time, and because Oxford is a place where using the right names really matters if you are an undergraduate. King gets most of it right, but she does make a few slips. Saying "Balliol College" instead of "Balliol" in ordinary speech instantly marks you as an outsider. And no-one in the university would ever describe the vacation as a "holiday" (this is the only place in British English where the word "vacation" is used regularly). Some of the oddities of Mary's university career can perhaps be put down to wartime measures or the anomalous situation of the women's colleges at the time, but it's still a bit unlikely that an Oxford theology course of the time would satisfy someone who was primarily interested in Judaism, and extremely unlikely that an undergraduate would be given a key to her lodgings or be allowed to keep a car (even with Mycroft's influence). But those are details, and this is an escapist adventure story. We shouldn't look too closely...