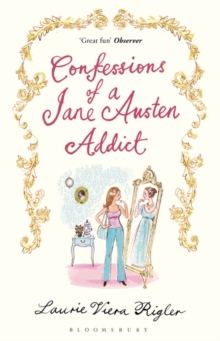 Confessions of a Jane Austen Addict
Paperback
Description
I'm sure wherever the real Jane is, she's just as eager to get back to her own life as I am to mine.
So why not just relax in the meantime, experience the sensation of living in another body and another time, Jane Austen's time, no less, and have faith that real life will return soon enough.
At least in this world someone else does the shopping and cleaning up.
Sassy, smart and suddenly single Courtney Stone is a typical, modern LA girl.
That is, until she wakes up one morning in Regency England in the body of Jane Mansfield.
At first she thinks she must be dreaming - maybe she's read all of Jane Austen's books a few too many times - but as time goes on she finds there is a lot she needs to get to grips with: a new accent, a new body, a wicked new 'mother', and most excitingly, a new man in her life: the dashing, dishy Charles Edgeworth.
But is he a Darcy, a Wickham, or merely a confusing distraction?
As Courtney trips through the social minefield of life in Jane Austen's England she wonders: Will she ever get her twenty-first century, west-coast life back - and does she even want to?
Information
Format: Paperback
Pages: 304 pages
Publisher: Bloomsbury Publishing PLC
Publication Date: 01/02/2010
ISBN: 9781408800997
Free Home Delivery
on all orders
Pick up orders
from local bookshops
Reviews
Showing 1 - 1 of 1 reviews.
Review by elliepotten
16/06/2015
I was very interested in reading this after enjoying <i>Lost in Austen</i> on television a few years ago. The idea really appealed to me – we may romanticise the England of Jane Austen's novels, but how would a 21st-century woman <i>really</i> fare if she was faced with the realities of Regency life? In that sense, Rigler's novel definitely hit the spot. It tells the fantastical tale of one Courtney Stone, a feisty LA Austenophile who has just lost her fiancé Frank and her best friend Wes in one catastrophic betrayal – then to top it all off, wakes up one morning in the body of Jane Mansfield, a Regency girl with quite enough troubles of her own…There were definitely good points and bad points about the book, which is why it landed itself with a solid three-star rating. The good? Well, it's great fun! It has all the treasured Austen elements – a young woman searching for love, a dashing but suspiciously charming hero, a ridiculous mother, a kindly father - yet it throws a whole new slant on Austen's world, allowing the reader to see the social conventions and home life of a Regency family in all their less-than-romantic glory. This was a world where a bath took hours to prepare, bloodletting was a favoured medical treatment, the toilet was a chamber-pot, people brushed their teeth with gritty tooth powder, and corsets were the way to go. Oh, and after the scene in the 'healing' waters of Bath, you'll never see the phrase 'taking the waters' in quite the same way again… Where Rigler REALLY excels is in exploring the role of women in Regency society. Despite her own evident love of Austen's novels, she doesn't mince her words when it comes to the way women were treated in England in Austen's time. The way women are seen as property to be 'married off' comes across very clearly, and although Courtney/Jane appreciates the quiet, technology-free way of life (and the excellent food!) she really struggles with the lack of freedom. Everywhere she goes she must be chaperoned; if she so much as looks at a man the wrong way her entire future could be in tatters; when she voices a strong opinion she is considered, at best, scandalous, at worst, insane. It's pretty sobering stuff.So what did I <i>not</i> like about the book? It was a bit bland for me, to be honest. It had some very funny moments, but not enough to make it a really humorous novel. The reason for the Jane-Courtney body swap was muddled and confusing, and considering Courtney's obsession with Austen's novels she made some pretty glaring gaffes on several occasions. Her feelings for Edgeworth (the hero) and her reflections on her friend Wes in LA seemed to change every chapter, without any real driving force. And the ending was atrocious. It comes upon the reader so suddenly, without any real conclusion or explanation, that it weakened the whole thing for me. My verdict? Well, it may not have blown me away, may not have turned my life upside down, may not have completely captured my heart – but it was a fun little girlie read, perfect for a lazy day in the sunshine this summer. And I've already ordered the sequel, <i>Rude Awakenings of a Jane Austen Addict</i>, about Jane's experience in Courtney's body, which sounds equally intriguing!
Also by Laurie Viera Rigler