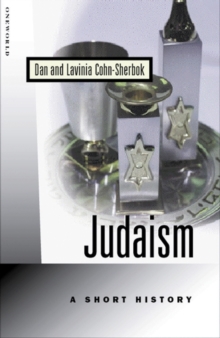 Judaism : A Short History
Paperback
Description
This book covers all the elements of Jewish history, from the times of the Ancient Middle East, Mesopotamia and Babylon, to the Jewish diaspora today.
It opens with a consideration of the background to the Jewish faith, and its emergence from the Ancient Middle East.
It then considers the Pentateuch, its origins, status, and the various different sources.
The book then moves on to the themes of conquest and exile, through the Northern Kingdom, the Babylonian conquest and the Maccabean Revolt.
Chapter 5 considers Rabbinic Judaism and the Academy at Javneb, while Chapter 6 examines the dispersion of Jews, in the Roman Empire, under early Islamic rule, and in Christian Europe.
Chapter 7 studies the Jewish philosophical tradition, while Chapter 8 outlines the origins of Jewish mysticism, including information on the Kabbalah and the Zohar.
Chapter 9 is a study of Jewry in Eastern Europe, while Chapter 10 addresses progressive Judaism and the Reform Movement.
Chapters 11 and 12 deal with Anti-Semitism, Zionism and the Holocaust; the book closes with a consideration of the challenges facing the Jewish community today, including coverage of the state of Israel and the role of feminism.
Information
Format: Paperback
Pages: 160 pages, Illustrations, black and white
Publisher: Oneworld Publications
Publication Date: 27/07/1999
Category: History of religion
ISBN: 9781851682065
Free Home Delivery
on all orders
Pick up orders
from local bookshops