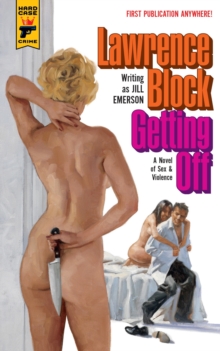 Getting Off : A Novel of Sex & Violence
Paperback
Description
SO THIS GIRL WALKS INTO A BAR... ...and when she walks out there's a man with her. She goes to bed with him, and she likes that part. Then she kills him, and she likes that even better. On her way out, she cleans out his wallet. She keeps moving, and has a new name for each change of address.
She's been doing this for a while, and she's good at it. And then a chance remark gets her thinking of the men who got away, the lucky ones who survived a night with her.
She starts writing down names. And now she's a girl with a mission. Picking up their trails. Hunting them down. Crossing them off her list...
Information
Format: Paperback
Pages: 336 pages
Publisher: Titan Books Ltd
Publication Date: 16/10/2012
Category: Crime & mystery
ISBN: 9780857685827
Free Home Delivery
on all orders
Pick up orders
from local bookshops
Reviews
Showing 1 - 2 of 2 reviews.
Review by calum-iain
16/06/2015
This is the first book from "Hard Case Crime" since the imprint moved to British publisher Titan Books and what a cracker it is. Writing as Jill Emerson, the great Lawrence Block delivers exactly what it says on the cover: "a novel of sex and violence". The book tells the story of Katherine Anne Tolliver, a beautiful but deadly young woman, who sets herself the goal of killing ever man she's ever slept with. Although there aren't that many of them, they're not easy to find and Katherine has to criss-cross the States in her hunt to erase them. On her quest, however, it's almost inevitable that she hooks up and if she sleeps with any of these men she had little option but to kill them. Things become complicated, however, when Katherine finds herself in a lesbian relationship, falls in love and sleeps with her female companion. There are a million monotonous serial killer novels lining the shelves of bookshops, but you're guaranteed that a master such as Lawrence Block will do something different and extraordinary with the sub-genre, and with "Getting Off" he most certainly does. This is hardboiled crime fiction that twists and subverts and in best noir fashion turns the world on its head – good and evil blur and the difference between the two becomes close to impossible to differentiate: this is a story for our times if ever there was one. Block takes many diversions with his story – he has one of Katherine's ex-lovers being a now crippled Iraq war veteran. Her interactions with the soldier over a couple of short chapters builds into a powerful little anti-war story in its own right. The overall novel also manages to cast up a number of interesting conundrums: does the past define who we are? Does our upbringing condemn us? Can love change our nature and who we are? Block's writing is sharp, precise and relentlessly paced with clever use made of the flashback / flash forward narrative construction. In Katherine Tolliver, Block delivers a "heroine" that is vicious and fearsome, but also one that is beautiful, attractive, strong and independent. She is also a character that you cannot help but root for. If it isn't a statement of the obvious the book overflows with sex and violence, often in tandem. This won't be to everyone's taste but Block handles it with assurance. "Getting Off: A Novel of Sex and Violence" is a hugely powerful read – brutal, sexy, relentless, tense, gripping, with an ultra-dry sense of humour. This is simply a great, great story and one of the very best from "Hard Case Crime", which really says something about the quality on offer.
Review by lilibrarian
27/08/2015
A woman kills the men she sleeps with. Realizing that several from when she first became sexually active have gotten away, she sets about tracking them down to deal with them.