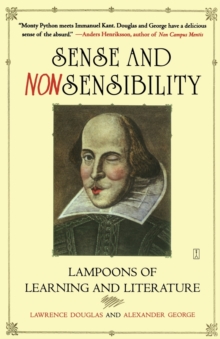 Sense and Nonsensibility : Lampoons of Learning and Literature
Paperback / softback
Description
At last, the thinking person's answer to the life of the mind in today's increasingly mindless, anti-intellectual age.
SENSE AND NONSENSIBILITY pokes fun at everyone from self-important scholars to pompous professors; from anally-retentive authors to plagiarising poets; from snake-oil therapists to the cyber-speaking cognoscenti.
This singular collection by professors Lawrence Douglas and Alexander George brings together some of their most popular pieces, along with several all-new-ones, including: - The Academy Awards for novels - with categories for 'Best Female Protagonist, Doomed', 'Best Narrator, Unreliable', and 'Best Novel, Unfinishable by a Reader' - Home Shopping University - offering the greatest ideas in western history at rock-bottom prices - The best in 'Self-helplessness' books - I'M OKAY, I'M OKAY: ACCEPTING NARCISSISM - THE PENIS ORATIONS - literature's answer to THE VAGINA MONOLOGUES From pay-per-call phone lines that cater to cerebral fetishes to behind-the-scenes reports on what happens when Hollywood takes on Kant, SENSE AND NONSENSIBILITY is for anyone looking for a good read, a good laugh and life beyond Harry Potter.
Information
Format:Paperback / softback
Pages:192 pages, 2 b-w photos
Publisher:Simon & Schuster
Publication Date:16/08/2004
Category:
ISBN:9780743260480