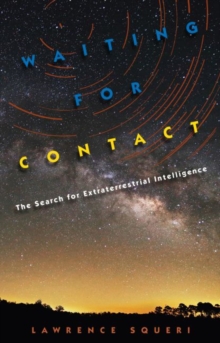 Waiting for Contact : The Search for Extraterrestrial Intelligence
Hardback
Description
Imagine a network of extraterrestrials in radio contact with each other across the universe, superior beings who hail from advanced civilizations quadrillions of miles away, just waiting for Earth to tune in.
Some people believe it's only a matter of time before we discover the right "station."Waiting for Contact tells the story of the Search for Extraterrestrial Intelligence (SETI) movement, which emerged in 1959 as new technological developments turned what once was speculation into science: astronomers began using radio telescopes to listen for messages from space.
Boosted by support from Frank Drake, Philip Morrison, and Carl Sagan, the SETI movement gained followers and continues to capture imaginations today. In this one-of-a-kind history, Lawrence Squeri looks at the people, the reasons, the goals, and the mindsets behind SETI.
He shows how it started as an expression of the times, a way out of Cold War angst with hope for a better world.
SETI's early advocates thought that with guidance from technically and ethically advanced outsiders, humanity might learn how to avoid horrors like global warfare and economic crisis and the threat of nuclear annihilation.
Squeri also describes the challenges SETI has faced over the years: the struggle to be taken seriously by the scientific community and by NASA, competition for access to radio telescopes, perpetual lack of funding, and opposition by the government.
Yet-lest readers be tempted into similar skepticism-he points out that if, against all expectations, the embattled SETI movement finally succeeds, the long-awaited first signal picked up by its radio antennas will usher the greatest shift in human history.
Information
Format: Hardback
Pages: 208 pages
Publisher: University Press of Florida
Publication Date: 30/08/2016
Category: Popular science
ISBN: 9780813062143
Free Home Delivery
on all orders
Pick up orders
from local bookshops
Also by Lawrence Squeri