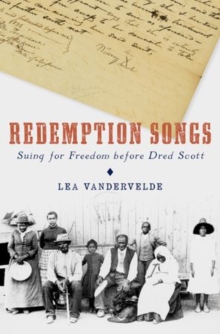 Redemption Songs : Suing for Freedom before Dred Scott
Hardback
Description
Dred Scott v. Sanford is the most famous-and also the most infamous-Supreme Court decision in American history. Justice Roger Taney's ruling in favor of Scott's owner effectively extended the reach of the slave system far beyond the South, and was instrumental in worsening the sectional crisis. While the decision was disastrous, what is often overlooked is the fact that in certain circumstances slaves could avail themselves of the legal system.
As itturns out, Scott was one among many slave litigants who took to the courts and in so doing helped reshape the parameters of American slavery. In Redemption Songs, Lea VanderVelde moves far beyond the Scott case through chapter-length accounts of a dozen slave suits in the state of Missouri.
VanderVelde coversthe Scott case, but casts it in relief against a wide variety of trials involving slave litigants. In one instance, an owner freed his slaves, but they were seized by the owner's creditors.
Were they free or not? Another case revolved around the fact that the litigant had Native American as well as black ancestors. Which ancestry was decisive? Another dispute involved a Mississippi owner's will, which included only vague instructions to manumit his slaves into Illinois. In combination, the stories behind the cases provide a genuinely multifaceted portrait of slavery in late antebellum America. While hundreds of books have been written about slavery, in the main they tend to be either microhistories of individual slaves and slave families or broad social histories of the peculiar institution.
Redemption Songs uniquely features both approaches. VanderVelde not only knits together the stories of a dozen distinct individuals with one thing in common-their statusas litigants-and little else, she also provides a rich and eye-opening account of the legal foundations of the larger system. It is essential reading for anyone interested in how the system operated and how slaves attempted to navigate through it in the most trying of circumstances.
Information
Format: Hardback
Pages: 320 pages
Publisher: Oxford University Press Inc
Publication Date: 26/09/2013
Category: History of the Americas
ISBN: 9780199927296
Other Formats
EPUB from £24.22
PDF from £24.22
Free Home Delivery
on all orders
Pick up orders
from local bookshops