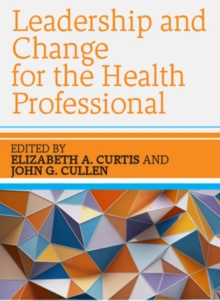 Leadership and Change for the Health Professional
Book
Description
Leadership and Change for the Health Professional will provide health professionals with the latest thinking on leadership theory and research.
It highlights the issues that can block successful healthcare leadership initiatives, and explores ways of constructively engaging with the opportunities provided by change.
Each chapter draws out practical lessons for effective and efficient leadership of care that is compassionate and safe.
Leaders and students at all levels will be able to use this book to expand their leadership repertoire in a text that engages with many themes, including:* The basics of leadership and the idea of leadership as a "calling" * Motivating employees* Implicit leadership theory* Developing trust* Building learning organisations* Gender and equality * Planning and organising change in healthcare* Leading changeThe links between the theory and practice of healthcare leadership are skilfully explored with examples of research implemented in practice, and the textbook further equips your study with helpful summaries and suggestions for further reading. This is essential reading for all healthcare professionals in clinical practice as well as students studying or engaged in research on health care management and leadership. With a foreword by Thomas Garavan, Edinburgh Napier Business School, UK. "Amongst the vast number of leadership texts published every year this book stands out.
It has been edited with considerable care by two highly respected scholars in the field to make it accessible to all those interested in, and practising, leadership, whether healthcare professionals or students.
It is well organised and moves seamlessly to address many important questions about the nature of leadership, including important questions of ethics, gender, trust, motivation, innovation, teams, and distributed leadership.
The final section focuses on leading change in healthcare, a critical element of leadership practice in today's world.
Too many leadership books ignore context. This book, however, is firmly rooted in the healthcare context, and aspires to help professionals in this sector to reflect deeply on the complexities of leading through uncertain times.
Whilst each chapter stands alone, the book's merit is in offering multiple perspectives.
Curtis and Cullen have encouraged the book's contributors to address the big debates and themes in healthcare leadership today, whilst keeping in sharp focus the practice of leadership." Sharon Turnbull, Visiting Professor, Lancaster University Management School, UK"In Leadership and Change for the Health Professional, Elizabeth Curtis and John Cullen have crafted an exceptionally timely collection of practically-based research insights.
As global healthcare systems face disruptive and often uncomfortable forces for change, this book tackles complex topics that health leaders must understand.
While oriented toward generative practice and creative leadership skills, Curtis and Cullen do not shy away from engaging with controversial aspects of leadership development, such as bias, gendered practice, or even clinical failure, making it a valuable resource for educators and practitioners alike.
Accessible and lively, Leadership and Change for the Health Professional is a successful blend of current issues with a visionary future."Kathy Lund Dean, Board of Trustees Distinguished Professor of Leadership & Ethics, Gustavus Adolphus College, USA"Curtis and Cullen bring together a comprehensive overview of leadership, from its historical development up to its role within the current healthcare context, presented by a variety of scholars.
The particular challenges and demands faced by leaders and those who aspire to lead are discussed within and it addresses the many facets of leadership approaches.
Anyone interested in the development of leadership and change will find this particularly stimulating and a valuable text for academic and students alike."Alison H James, School of Healthcare Sciences, Cardiff University, UK"This book covers many aspects of leadership, which are timely in nature and directly relevant to health professionals.
The contributors are highly respected and offer different perspectives on this complex issue.
We need to encourage practitioners to see themselves as leaders - this evidence-based text will serve to guide them in this quest.
De-emphasising the individual leadership qualities and including those of teams makes this book stand out from others.
The NHS features prominently but despite this, readers from other countries should be able to easily transfer the content to their own health services.
The useful websites at the end of each chapter provide further direction for readers.
This is a text that is written with a very positive stance, even though the difficulties of being a leader are not ignored.
It ends with a discussion on the vision for leadership - at individual, team and organisational levels.
Lots to read, absorb and you can do this a chapter at a time which is great."Professor Bridie Kent, Head of School of Nursing and Midwifery, Plymouth University, UK"This book addresses an important topic, where there is huge scope to add value.
This is partly due to the scale of the NHS. The language makes the text accessible to professionals as well as academics.
It is also good to see that the issue of learning organisations is addressed, as well as impact of leadership on patients."Professor John G Burgoyne, Lancaster University Management School, UK "Leadership and Change for the Health Professional is a timely and authoritative academic and professional exposition of the challenges for clinicians and healthcare managers in carrying out their management roles in our modern medical and healthcare systems.
Its focus on change is both apt and relevant in the context of the dynamic development of our healthcare structures."Niamh Brennan, Michael MacCormac Professor of Management, University College Dublin
Free Home Delivery
on all orders
Pick up orders
from local bookshops