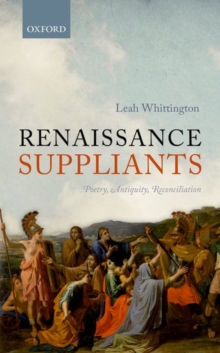 Renaissance Suppliants : Poetry, Antiquity, Reconciliation
Hardback
Description
Renaissance Suppliants studies supplication as a social and literary event in the long European Renaissance.
It argues that scenes of supplication are defining episodes in a literary tradition stretching back to Greco-Roman antiquity, taking us to the heart of fundamental questions of politics and religion, ethics and identity, sexuality and family. As a perennial mode of asymmetrical communication in moments of helplessness and extreme need, supplicationspeaks to ways that people live together despite grave inequalities.
It is a strategy that societies use to regulate and perpetuate themselves, to negotiate conflict, and to manage situations in which relationships threaten to unravel. All the writers discussed here-Vergil, Petrarch, Shakespeare, andMilton-find supplication indispensable for thinking about problems of antagonism, difference, and hierarchy, bringing the aesthetic resources of supplicatory interactions to bear on their unique literary and cultural circumstances.
The opening chapters establish a conceptual framework for thinking about supplication as facilitating transitions between states of feeling and positions of relative status, beginning with Homer and classical literature.
Vergil's Aeneid is paradigmaticinstance in which literary and social structures of the ancient past are transformed to suit the needs of the present, and supplication becomes a figure for the act of cultural translation.
Subsequent chapters take up different aspects of Renaissance supplicatory discourse, showing how postures of humiliation andabjection are appropriated and transformed in erotic poetry, drama, and epic.
The book ends with Milton who invests gestures of self-abasement with unexpected dignity.
Information
Format: Hardback
Pages: 256 pages, 15 black-and-white halftones
Publisher: Oxford University Press
Publication Date: 09/06/2016
ISBN: 9780198754442
Free Home Delivery
on all orders
Pick up orders
from local bookshops