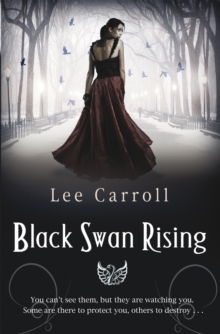 Black Swan Rising
Paperback
Description
New York jeweller Garet James has her fair share of problems: money, an elderly father, a struggling business.
One day she comes across an antiques shop she'd never noticed before.
The owner possesses an old silver box that's been sealed shut.
Would she help an old man and open it, perhaps? She does...and that night strange things begin to happen.
It's as if her world - our world - has shifted slightly, revealing another, parallel place that co-exists without our knowledge: the world of the Fey...Garet learns that one of her ancestors was 'the Watchtower': an immortal chosen to stand guard over the human and the fey worlds - a role that she has, it seems, inherited from her mother.
But the equilibrium between these two existences is under threat.
The 16th-century magician and necromancer Dr John Dee has returned, the box has been opened and the demons of Despair and Discord released.
In a race against time and impending apocalypse, it is Garet who must find Dee...and close the box.
Information
Format: Paperback
Pages: 448 pages
Publisher: Transworld Publishers Ltd
Publication Date: 01/05/2011
Category: Fantasy
ISBN: 9780553825572
Free Home Delivery
on all orders
Pick up orders
from local bookshops
Reviews
Showing 1 - 1 of 1 reviews.
Review by hashford
16/06/2015
Garet doesn't know it at the start, but she is "The Watchtower" – one of the guardians of the boundary between the spirit world and human space. She finds out after she opens a magical silver box; later that night there is a burglary at the gallery where she lives with her father and the box (along with some valuable paintings) is stolen.This is the start of a magical and frightening adventure for Garet. She meets Oberon, King of the Fairies, and through him four "guides" who awaken skills within her; skills that she will need to prepare her to fight with John Dee, the alchemist who is behind the theft of her box, and recover the box. She only has 7 days to learn the skills she needs, find Dee and retrieve the box; after that the destructive demons of Despair and Discord will be unleashed on the world forever.Oberon isn't her only helper, however, she also meets Will Hughes, who is a vampire. Although Will is a stranger to Garet, she feels an immediate connection to him – are their histories (and their futures) inextricably linked?I enjoyed this book immensely. The story line, although fantastical, is well put together and has just the right amount of pace. There is a tantalising amount of complexity – for instance it is never quite clear whether Oberon and Will are truly on Garet's side or whether they are pursuing the box for their own reasons.I loved the references to mythology (such as the water sprite Melusine and dybbuks - evil Jewish spirits) and to real life wonders (eg lovers eyes, the Amber Room). Also, many of the characters are taken from the real world (John Dee is really an Elizabethan alchemist) and from fiction (quite a lot of characters from A Midsummer Night's Dream turn up). I also loved the way it is grounded in New York, with descriptions of real places and real journeys that I was able to follow on Google maps.If it has a weakness it's the quality of the writing, as other reviewers have said. However, it's other strengths carry you past that. This is the first book in a series, and I was certainly left wanting to read more – and will probably get the second book when it comes available.I would recommend this book to teenagers and adults; anyone who has enjoyed the Twilight series will probably enjoy this series too.I have read and reviewed this novel as part of the Transworld Book Group Reading Challenge.