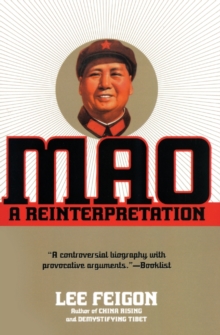 Mao : A Reinterpretation
Paperback / softback
Description
In recent years historians and political observers have vilified Mao Tse-tung and placed him in a class with tyrants like Hitler and Stalin.
But, as Lee Feigon points out in his startling revision of Mao, the Chinese leader has been tainted by the actions and policies of the same Soviet-style Communist bureaucrats he came to hate and attempted to eliminate.
Mr. Feigon argues that the movements for which Mao is almost universally condemned today-the Great Leap Forward and especially the Cultural Revolution-were in many ways beneficial for the Chinese people.
They forced China to break with its Stalinist past and paved the way for its great economic and political strides in recent years.
While not glossing over Mao's mistakes, some of which had heinous consequences, Mr. Feigon contends that Mao should be largely praised for many of his later efforts-such as the attacks he began to level in the late 1950s on those bureaucrats responsible for many of the problems that continue to plague China today.
In reevaluating Mao's contributions, this interpretive study reverses the recent curve of criticism, seeing Mao's late-in-life contributions to the Chinese revolution more favorably while taking a more critical view of his earlier efforts.
Whereas most studies praise the Mao of the 1930s and 1940s as an original and independent thinker, Mr. Feigon contends that during this period his ideas and actions were fairly ordinary-but that he depended much more on Stalin's help than has been acknowledged.
Mao: A Reinterpretation seeks a more informed perspective on one of the most important political leaders of the twentieth century.
Information
Format: Paperback / softback
Pages: 240 pages
Publisher: Ivan R Dee, Inc
Publication Date: 24/07/2003
ISBN: 9781566635226
Other Formats
EPUB from £8.59
Hardback from £14.65
Free Home Delivery
on all orders
Pick up orders
from local bookshops