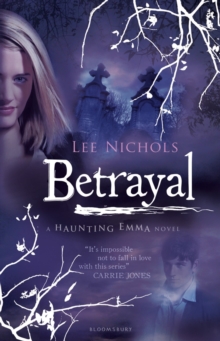 Description
Emma Vaile is the most powerful ghostkeeper in centuries.
Which is great when she's battling the wraith-master Neos, but terrible when she's flirting with fellow ghostkeeper (and love interest) Bennett.
When ghostkeepers fall in love, the weaker one loses all power, and that's something Bennett is not willing to accept.
Heartbroken and alone, Emma tries to lose herself in school.
A new team of ghostkeepers has arrived - one a snarky teen boy, the other a visiting scholar - and Emma finds solace in training for the battle against Neos.
But as the team grows stronger, they are threatened by an unknown force.
As chilling and page-turning as Deception, this sequel will grab readers and hold them to the last page.
No one is safe from suspicion as Emma closes in on the traitor.
Information
Format: Paperback
Pages: 288 pages
Publisher: Bloomsbury Publishing PLC
Publication Date: 01/09/2011
Category: Fantasy
ISBN: 9781408819630
Free Home Delivery
on all orders
Pick up orders
from local bookshops
Reviews
Showing 1 - 1 of 1 reviews.
Review by AdonisGuilfoyle
16/06/2015
I love reading YA novels, but I have a sneaking suspicion that certain authors might be following a formula: the characters of the 'Haunting Emma' series by Lee Nichols and the 'Vampire Academy' books by Richelle Mead seem to have an interchangeable cast and story arc. Young girl with special powers uprooted from family? Check. Sent to live in secret community to train for her new supernatural vocation? Yup. Falls in love with slightly older and incredibly goodlooking guardian? Hell yes. I'm not complaining, by any means - I enjoyed the vampires, and I'm equally smitten with the ghosts - but teens who read nothing but these novels might get a little stalled by the similarities.The shocks keep on coming for Emma Vaile, after discovering that she is the greatest in a long line of 'ghostkeepers' in the first 'Haunting Emma' novel. The Knell, a secret society of ghostkeepers, send two new agents to Echo Point, one to train Emma and one to join with her and Natalie in the fight against Neos, but Emma is also struggling with two typically teenage worries: boyfriend trouble and fitting in at school. Bennett decides that he can't surrender his own powers to be with Emma after all, and Coby's friends are still blaming Emma for what happened. On top of all this, more Vaile family secrets are revealed. As Emma says, 'Did my whole life boil down to ancestry? My parents, who'd lied to me. My brother, who'd disappeared. The previous incarnations of me, who'd fought and died'. Gripping stuff.Another fast-paced adventure from Nichols, with a young but engaging heroine and a great concept. I love the idea of communicating with ghosts more than all the 'action scenes', but I will definitely keep reading, to find out how everything works out for Emma and Bennett.