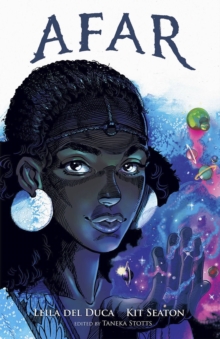 Description
Boetema suddenly develops the ability to astrally project to other worlds,unintentionally possessing the bodies of people light years away.
Inotu, herinquisitive brother with a pension for trouble, finds himself on the run afterhe's caught eavesdropping on an illegal business deal between small townbusiness tycoons and their cyborg bodyguard.
When Boetema accidentally getssomeone hurt while in another girl's body, the siblings are forced to worktogether to solve the problems they've created on their planet and others. AFAR is a coming-of age fantasy tale about two siblings.
Boetema canastrally project, and her brother, Inotu, is forced to grow up when theirreckless parents leave to work as salt shepherds.
Boetema is tasked withfiguring out why she dreams she's in other people's bodies, and in doing so,makes matters worse on a planet hundreds of light years away.
Inotu struggles tobecome a confident and supportive brother while they've been left alone by theirparents.
Poor, sleep-deprived, and on the run from a cyborg, the siblings worktogether to overcome their own personal obstacles, making their way across thedesert to the thriving metropolis, Yopan.
Information
Format: Paperback
Pages: 168 pages
Publisher: Image Comics
Publication Date: 04/04/2017
Category: Science fiction
ISBN: 9781632159410
Free Home Delivery
on all orders
Pick up orders
from local bookshops