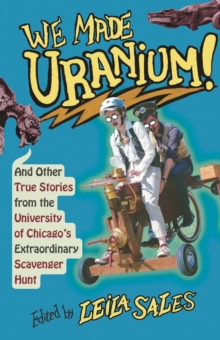 We Made Uranium! : And Other Stories from the University of Chicago's Extraordinary Scavenger Hunt
Paperback / softback
Description
A fire drill. No, not an exercise in which occupants of a building practice leaving the building safely.
A drill which safely emits a bit of fire, the approximate shape and size of a drill bit. A Michelin(R) tire signed by a chef at a Michelin(R) restaurant. Convince a campus tour that they are on a rollercoaster, featuring various themed thrills, an upside down portion (with dads' consent), and a group photo available for download at the end of the ride. Fattest cat. Points per pound. --from the 2018 University of Chicago Scavenger Hunt List The University of Chicago's annual Scavenger Hunt (or "Scav") is one of the most storied college traditions in America.
Every year, teams of hundreds of competitors scramble over four days to complete roughly 350 challenges.
The tasks range from moments of silliness to 1,000-mile road trips, and they call on participants to fully embrace the absurd.
For students it is a rite of passage, and for the surrounding community it is a chance to glimpse the lighter side of a notoriously serious university. We Made Uranium! shares the stories behind Scav, told by participants and judges from the hunt's more than thirty-year history.
The twenty-two essays range from the shockingly successful (a genuine, if minuscule, nuclear reaction created in a dorm room--just the second time there's been a nuclear pile on campus) to the endearing failures (it's hard to build a carwash for a train), and all the chicken hypnotisms and permanent tattoos in between.
Taken together, they show how a scavenger hunt once meant for blowing off steam before finals has grown into one of the most outrageous annual traditions at any university. At the heart of these stories are chaos, camaraderie, and competitiveness, a fitting Bizarro World parallel to the real rigors of undergraduate life at a top university.
The tales told here are absurd, uplifting, hilarious, and thought-provoking--and they are all one hundred percent true.
Information
Format: Paperback / softback
Pages: 248 pages, 10 halftones
Publisher: The University of Chicago Press
Publication Date: 16/04/2019
ISBN: 9780226571843
Free Home Delivery
on all orders
Pick up orders
from local bookshops