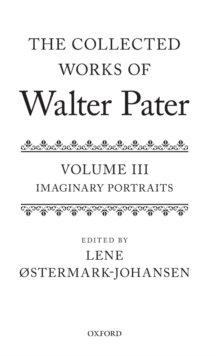 The Collected Works of Walter Pater: Imaginary Portraits : Volume 3
Hardback
Description
Imaginary Portraits is Volume 3 in the ten-volume Collected Works of Walter Pater.
Among Victorian writers, Pater (1839-1894) challenged academic and religious orthodoxies, defended 'the love of art for its own sake', developed a new genre of prose fiction (the 'imaginary portrait'), set new standards for intermedial and cross-disciplinary criticism, and made 'style' the watchword for creativity and life.
Pater's Imaginary Portraits are among some of the most stylish and original pieces of short fiction in Victorian literature: portrayals of a series of handsome male protagonists across the ages of European history, set against a range of evocative European backdrops from Classical Greece to Medieval France, eighteenth-century Germany and modern England.
Together, they constitute a remarkable testimony to Pater's profound understanding of centuries of cultural history, reworked in thehybrid genre of the imaginary portrait as sophisticated portrait miniatures of minor characters touched and affected by major moments in European history.
They question central issues of nationhood and belonging, a Pan-European cultural identity, and the fate of the individual in the face of collectivehistory.
As formative texts for Modernist writers like Joyce, Eliot, and Woolf, Pater's Imaginary Portraits had an impact which reached far beyond the nineteenth century.
Free Home Delivery
on all orders
Pick up orders
from local bookshops
Also in the Collected Works Of Walter Pater series