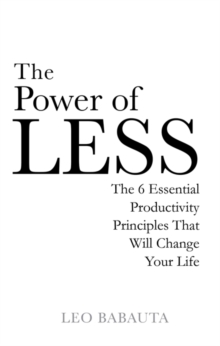 The Power of Less : The 6 Essential Productivity Principles That Will Change Your Life
Paperback
Description
With the arrival of the 21st century we have encountered a mental and material explosion in the Western world: we have near-unlimited information at our fingertips, we can have children who are healthy and safe, and we have wealth and possessions beyond what most of the world can dream of. However, this is not a boast. We are more stressed than we have ever been: the majority of us are profoundly unhappy.
Despite the potential of prosperity, our fears are undiminished: we are stuck with cars and computers and houses and mobiles and hundreds of other tiny apparent "needs" that, when all combined, build to something unsustainable.
Though we are surrounded by what we want, our desire to keep and still get more creates a pressure that we cannot tolerate. But we do not need to "keep up with the Joneses". The flip side of our society's growth is that we can choose what to accept, and what not to accept: what to keep, and what to lose, joyfully and consciously.
With this handbook of simplicity, Leo Babauta shows us:. why less is powerful. how to know what you want, and what you need. how to choose what is essential, and clear out the restWith The Power of Less, you will be able to start a complete shift from wanting everything to needing nothing, be able to live your life simply without compromise, and discover that though we cannot have everything we want, we can obtain anything we will ever need.
With this book, you will find how to go through life not carefully, but carefreely.
Information
Format: Paperback
Pages: 192 pages
Publisher: Hay House UK Ltd
Publication Date: 01/06/2009
Category: Popular psychology
ISBN: 9781848501164
Free Home Delivery
on all orders
Pick up orders
from local bookshops
Reviews
Showing 1 - 1 of 1 reviews.
Review by Piggelin
16/06/2015
Lately, I've read a number of books on time management/self-improvement. The Power of Less is definitely worth reading, but not the best in the field. The key aspect I will bring with me from reading this book is trying to cut out some "nice to have:s/do:s" by challenging my "to-do"-llists and requests from others around me as well as work through 1 habit at a time. However, in my line of work I cannot go as far as the author prescribes e.g. not scheduling meetings even if I'd like to. The book include many of the standard advice given in similar books, and also the author repeat a number of the advice he's giving through out the book. On one hand, the repetition makes it stick - but it also made me think about the statement the author made in the beginning of the book of cutting down words in e-mails...sometimes he should have applied it to this book alternatively used some of the words to go a bit deeper.All in all, it is a nice book with some good advice that is described in an accessible way - which is something not to take for granted when reading self-improvement books.