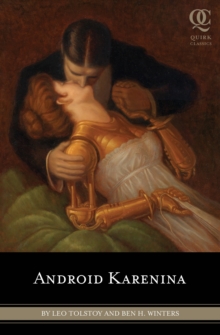 Android Karenina
Paperback
Description
It s been called the greatest novel ever written. Now, Tolstoy s timeless saga of love and betrayal is transported to an awesomer version of 19th-century Russia.
It is a world humming with high-powered groznium engines: where debutantes dance the 3D waltz in midair, mechanical wolves charge into battle alongside brave young soldiers, and robots miraculous, beloved robots! are the faithful companions of everyone who s anyone.
Restless to forge her own destiny in this fantastic modern life, the bold noblewoman Anna and her enigmatic Android Karenina abandon a loveless marriage to seize passion with the daring, handsome Count Vronsky.
But when their scandalous affair gets mixed up with dangerous futuristic villainy, the ensuing chaos threatens to rip apart their lives, their families, and just maybe all of planet Earth."
Information
Format: Paperback
Pages: Two Colour
Publisher: Quirk Books
Publication Date: 01/06/2010
Category: Science fiction
ISBN: 9781594744600
Free Home Delivery
on all orders
Pick up orders
from local bookshops
Reviews
Showing 1 - 5 of 32 reviews.
Previous | Next
Review by SlySionnach
16/06/2015
I fear I have no romantic bone in my body. Okay, let me amend that. I do, just not one when it comes to Anna. Kitty and Levin? Yes. Adorable and I found myself rooting the whole time. Anna? No. Let me start from the beginning though: I thoroughly enjoyed the novel. I haven't read <i>Anna Karenina</i>, so I can't compare how close it was to the original, but this one I did enjoy. A reader can tell where Tolstoy's words shine through. They can tell where Winters placed robots (and that's not all, ladies and gents). And it all seems to flow together rather well. The twists at the ending, which I have spent wondering how they related to the original work and <i>if</i> they have anything to relate to, were somewhat surprising. I didn't have any idea of one of them until shortly before it was revealed, so that gave me a pleasant surprise.I enjoyed the story, following the downward spiral of Russian life, and of the life of Anna and the upward spiral of others. The idea of UnConSciya combined with the Honored Guests was interesting, if not somewhat easy to figure out. It's the type of sci-fi twist that could entertain both sci-fi readers and classics readers alike.The only downside that made me want to throw the book (and, as my boyfriend pointed out, indicated that I must enjoy it if I cared about the characters so much) was Anna. I just hated the title character with a passion that almost made me put down the book. She's the most self-centered, wishy-washy person I've ever read about. She gets what she wants with little regard to her husband (who I really felt rather bad for the entire novel, and not angry even if he was "evil"), her son (who she suddenly goes, "Oh my! I want to see him"), her daughter (What happened to her?!) and all the friends and family that went out of their way to help her. The only thing she thought about was herself and getting her own way, as evidenced by the way her story ends.Regardless, I'm still recommending this to people. Sometimes, I wonder if the books like this are encouraging people to read the original source material. It certainly brings the idea to people who would be less-than-eager, I think. Because I assure you, I'm going to pick up <i>Anna Karenina</i> and see if she's just as annoying originally than she is here.
Review by mccin68
16/06/2015
I could never finish the original and I struggled repeatedly through this re-make. The insertion of androids into the story took a lot to get used to and was at times distracting to the story. Not my most favorite of the quirk classics but it did get me to re-look at the classics I've neglected.
Review by philae_02
16/06/2015
I won this title from the Early Reviewers Giveaway back in May, and had been daunted by the 538 page volume as it sat patiently on my bookshelf. But I finally finished the book and I now wish that I had read it sooner because of the immense science fiction pleasure that it gave me. Winters (the same writer that did Pride and Prejudice and Zombies parody) transformed the world of Tolstoy's Anna Karenina into a futuristic Russia (but with some 19th century traditions) where robots are a part of everyday life. The classic novel weaves two stories – one of shame and social degradation (with Anna and Count Vronsky) and the other of true love and marital bliss (with Levin and Kitty). But B.H. Winters incorporates several twists: time travel, alien invasions, and exceptional villains. I was often reminded of the Terminator movie series when it came to the time travel aspect – which I thought was a nice twist, especially in the epilogue. Overall, I enjoyed the read, and it gave a definite boost to my vocabulary (I would recommend having a dictionary handy).
Review by ametralladoras
16/06/2015
Love it. Better than the original?? I think so. Love the steampunk characteristics. You definitely don't need to know the original story to understand and like this one.
Review by gregandlarry
16/06/2015
Too much was added to the original story. It detracted rather than added to it.