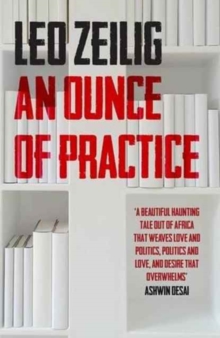 An Ounce of Practice
Paperback / softback
Description
As Viktor's marriage crumbles in London he struggles to make sense of the world around him.
He is consumed with ideas about how to bring about radical social change.
He befriends Tendai, a Zimbabwean cleaner at his university, and joins his struggle for cleaner's living wage.
They share revolutionary ideas, spurring each on, and Tendai suggests that Viktor make contact with his friend in Zimbabwe, Anne-Marie.
Through her we are introduced to Nelson, Biko, Lenin and other figures named after prominent past revolutionaries.
Viktor and Anne-Marie start speaking on Skype, and they soon begin to depend on their companionship and their friendship becomes sexual in nature, despite never having met.
Urged on by Tendai, Victor decides to travel to Harare to witness the realities of political struggle - following Frantz Fanon's idea about "an ounce of practice".
He and Anne-Marie quickly consummate their relationship.
Victorbecomes caught up with a group of men and women involved in an unusual opposition group with devastating, unexpected results.
This is a novel about hope, fear, and failure, and how fighting for an all-consuming cause can forge some relationships but ruin others.
Information
Format: Paperback / softback
Pages: 308 pages
Publisher: HopeRoad Publishing Ltd
Publication Date: 12/07/2016
ISBN: 9781908446589