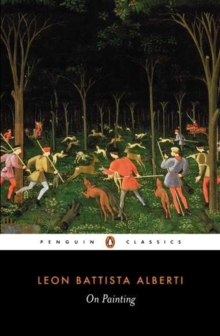 Description
Artist, architect, poet and philosopher, Leon Battista Alberti revolutionized the history of art with his theories of perspective in On Painting (1435).
Inspired by the order and beauty inherent in nature, his groundbreaking work sets out the principles of distance, dimension and proportion; instructs the painter on how to use the rules of composition, representation, light and colour to create work that is graceful and pleasing to the eye; and stipulates the moral and artistic pre-requisites of the successful painter.
On Painting had an immediate and profound influence on Italian Renaissance artists including Ghiberti, Fra Angelico and Veneziano and on later figures such as Leonardo da Vinci, and remains a compelling theory of art.
Information
Format: Paperback
Pages: 112 pages
Publisher: Penguin Books Ltd
Publication Date: 28/02/1991
ISBN: 9780140433319
Other Formats
Paperback from £13.39
Hardback from £58.65
PDF from £25.50
Free Home Delivery
on all orders
Pick up orders
from local bookshops
Reviews
Showing 1 - 2 of 2 reviews.
Review by FPdC
16/06/2015
This book, by the famed Italian architect and humanist Alberti, first published in 1435, was intended to be a presentation of the theoretical rudiments of painting to fellow painters or to those aspiring to become one. In it, Alberti gives a detailed exposition on the correct representation of lines, planes and other surfaces, on the rules of central perspective, of composition, of light, shade and colour, and of the harmonious combination of these diverse elements in order to produce a pleasent painting. Go back to Nature is the main thurst of the argument, always coached with a fair number of citations of classical sources in a tipical Renaissance discourse, but he also instructs the painters to aquire a solid culture in the ''liberal arts'' (geometry, poetry, and rhetoric) besides prescribing some moral pre-requisites and social skills! A very pleasant reading.
Review by baswood
16/06/2015
"Painting possesses a truly divine power in not only does it make the absent present (as they say of friendship), but it also represents the dead to the living many centuries later, so that they are recognised by spectators with pleasure and deep admiration for the artist."As this extract shows; Alberti was passionate about painting; he believed it was the truest medium to express the beauty of the natural world. He wanted to ensure that its practitioners were well aware of their responsibilities and that they would have the necessary skills to do their art justice. He wrote On Painting in 1435 as a relatively young man of thirty years old and would have been amazed that this short treatise would be his most famous work. This was at the dawn of the Italian renaissance in Florence and it was the first publication on the technique of painting. Alberti was well aware that he was writing an original work and also that it would be a teaching manual for students of painting, however it proves to be much more than this, as Alberti includes much of his philosophy on life which makes fascinating reading for anyone interested in the Italian Renaissance.There are three sections to the treatise; book one proves to be the most difficult to read as Alberti is intent here on providing a theoretical background. It is ground breaking stuff as he applies the science of mathematics to the art of painting. He is intent on laying the ground rules of geometry, which he believes is essential for would be painters to master. He has a firm grasp of perspective and we can follow his methods in establishing a vanishing point. It is not quite so easy to follow him through his explanation of how the eye sees different shapes and how these are to be measured and transferred onto a painting. He uses Aristotelian optical science with its emphasis on rays of light emitting from the eye, which was a feature of medieval optical science and which reads very strangely to us today, but his thoughts can be followed well enough. Book two serves as an instruction to painters on how to look at objects and transfer these visions with the skill of his hand onto a painting. There is much detail on the effects of light, proportions of the body, the correct facial expressions to be used and the use of colour, which is all fascinating stuff. Reading this felt like being in a 14th century classroom with Alberti standing out front and lecturing me on the how to be a painter. Book three deals with the personal qualities that are required to produce a work of art, it also provides some pointers as to how to capture the beauty of a subject and finally the importance of an artists work to society.Alberti's ideas on the perfection within nature is found everywhere in this treatise. He constantly encourages his students to look, really look for those perfect forms that are everywhere apparent. The aim of the artist should be to express those perfect forms, to demonstrate how everything fits together in a harmony created by God. According to Alberti everything in the world was well ordered and it was man who challenged this order with his actions and by his reactions to the ravages of fortune. It was the painter who was best placed to restore that harmony by his art.Alberti's advice to his students is to concentrate on Historia (history paintings) because there they will find subjects that are worthy of their art. This of course to a medieval man could mean subjects from classical times. Typically as a renaissance man; Alberti continually refers back to writers, philosophers and historians from ancient Greece and Rome. In a way this is second hand because he would have only known of painters from Greek antiquity from reports from historians, as no paintings from that era survived. A Christian artist then is encouraging his students to study the works and ideas of pagan artists and maybe to use pagan subject matter. At the time of writing "On Painting" nearly all the surviving paintings from the early renaissance are religious paintings, but there is no advice on how to depict religious subjects, which is curious because the cult of the Virgin Mary was in full swing at that time. Masaccio and Masolino had finished decorating the church of Santa Maria Novella in Florence with frescoes that Alberti would have seen. They were much admired by artists of the time and studied for their realistic depiction of biblical figures and their use of perspective and yet Alberti does not mention them. Alberti was a painter himself, but no paintings by him survive. I am not aware of any other history paintings from that era that are not religious and so the subject matter is a bit of a mystery.I read the penguin classics edition which has an excellent introduction by Martin Kemp and a good translation by Cecil Grayson. The translation is from the Tuscan Italian text but with additions from a Latin text where they differ. The treatise itself is fairly short just 60 pages long, I suppose it would not appeal to the more general reader but to anyone interested in the renaissance or the history of painting then this is a must read. It is a chance to read directly the thoughts of a cultured scholar of his times, who must also have been an excellent communicator. He did have his eye on posterity, but did not think it would come from his treatise, as he urges his students to include his portrait in their paintings. Alberti has the last word:"This is all I have to say about painting in theses books. If it is such as to be of some use to painters, I would specially ask them as a reward for my labours to paint my portrait in their "historia", and thereby proclaim to posterity that I was a student of this art and that they are mindful of and grateful for this favour."His friend Masaccio complied. A five star read.
Also by Leon Battista Alberti | View all