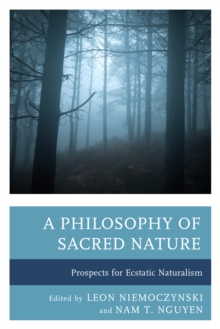 A Philosophy of Sacred Nature : Prospects for Ecstatic Naturalism
Hardback
Description
A Philosophy of Sacred Nature introduces Robert Corrington's philosophical thought, "ecstatic naturalism," which seeks to recognize nature's self-transforming potential.
Ecstatic naturalism is a philosophical-theological perspective, deeply seated in a semiotic cosmology and psychosemiosis, and it radically and profoundly probes into the mystery of nature's perennial self-fissuring of nature natured and nature naturing.
Edited by Leon Niemoczynski and Nam T. Nguyen, this collection aims to allow readers to see what can be done with ecstatic naturalism, and what directions, interpretations, and creative uses that doing can take.
A thorough exploration of the prospects of ecstatic naturalism, this book will appeal to scholars of Continental philosophy, religious naturalism, and American pragmatism.
Free Home Delivery
on all orders
Pick up orders
from local bookshops