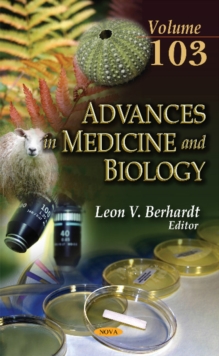 Advances in Medicine & Biology : Volume 103
Hardback
Description
The chapters in this volume present the latest developments in medicine and biology.
Chapter One summarizes the recent knowledge on the effects of carnitine on hyperammonemia in patients with liver cirrhosis and non-alcoholic steatohepatitis (NASH).
Chapter Two discusses the role of Acyl/free carnitine ratio on uremic cardiomyopathy in chronic hemodialysis patients.
Chapter Three investigates the possible application of lactic acid bacteria (LAB) during milk fermentation in relation to ACE-I inhibitory peptides.
Chapter Four focuses on black tea and the effect of the addition of milk on the antioxidant activity of black tea.
Chapter Five clarifies the current status of aortic valve stenosis therapy and defines its main advantages and problems related to the current option of treatment to better understand how to deal with patients at intermediate risk for conventional surgery.
Chapter Six reviews clinical signs, diagnosis and topical therapy of dermatophyte infections.
Chapter Seven focuses on species, subtypes, differences in pathogeny and clinical manifestations, and mathematical methods for DNA sequence analysis of human cryptosporidiosis.
Chapter Eight reviews global health security for the control of emerging infectious disease outbreaks.
Information
Format: Hardback
Pages: 185 pages
Publisher: Nova Science Publishers Inc
Publication Date: 01/09/2016
Category: Medicine: general issues
ISBN: 9781634856522