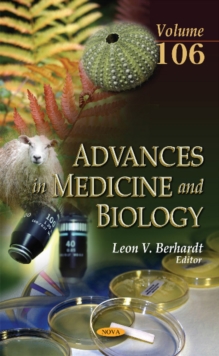 Advances in Medicine & Biology : Volume 106
Hardback
Description
The chapters in this volume present the latest developments in medicine and biology.
Chapter One provides an overview of various important sweat gland tumors.
Chapter Two discusses different benign and malignant lesions of the sweat glands, their diagnosis and management along with the pertinent review of literature to guide the readers about this rare group of disorders.
Chapter Three reviews strength exercise and cardiometabolic health.
Chapter Four discusses the importance of muscle function and the role of exercise training in muscle performance.
Chapter Five reviews results reported in different clinical studies and animal models to provide a comprehensive picture of the role of physical exercise in Parkinson's disease.
Chapter Six provides updates on anticancer activity of triterpenoids, their activities in health benefit, as well as the current situation of the triterpenoids synthesis.
Chapter Seven focuses on the improvement of defective cellular glucose uptake by the upregulation of estrogen signaling.
Chapter Eight evaluates the effect of Cervical Intraepithelial Neoplasia (CIN) lesion excision to non-surgically treated women under 25 years old diagnosed with CIN-2.
Chapter Nine discusses current and future directions for the risk factors of pregnancy-associated severe sepsis.
Chapter Ten examines species-specific detection of adulterant in milk which will ultimately help in value addition to milk as well as milk products.
Information
Format: Hardback
Pages: 211 pages
Publisher: Nova Science Publishers Inc
Publication Date: 01/12/2016
Category: Medicine: general issues
ISBN: 9781634859608