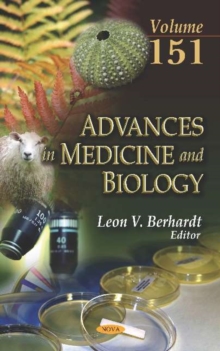 Advances in Medicine and Biology : Volume 151
Hardback
Description
Volume 151 begins with a focus on one of the rapidly growing mycobacteria groups, Mycobacterium smegmatis, used to understand the pathogenesis of Mycobacterium tuberculosis because of the disadvantages in the direct study of tubercle bacilli.
The authors propose that a perspective group in the current research and development of novel chemotherapeutic agents with a broad spectrum of activities may be functionalised phenolic derivatives and their metal complexes.
The authors also discuss Aeromonadaceae, Gram-negative, rod-shaped bacteria which are ubiquitous in aquatic environments, but they have been also isolated from different types of both fresh and processed foods.
Aeromonas species are considered opportunistic pathogens of both aquatic and terrestrial animals.
Following this, the role of mannans within Candida biofilms is examined, and the role of Candida biofilms in fungal structure, pathogenesis, and resistance is also addressed.
To optimise the application of ss-mannanase in practical animal nutrition, factors affecting its effectiveness have to be carefully considered.
As such, the authors explore the impact of these factors on efficacy of ss-mannanase in the penultimate chapter.
The concluding chapter focuses on postoperative nausea and vomiting, common and distressing side effects following surgery and anaesthesia.
Despite modern antiemetic agents, short-acting anesthetics and minimally invasive surgery, postoperative nausea and vomiting still affects around 30% of surgical patients, with certain high-risk patients experiencing postoperative nausea and vomiting up to 80%.
Information
Format: Hardback
Pages: 183 pages
Publisher: Nova Science Publishers Inc
Publication Date: 06/08/2019
Category: Scientific, Technical and Medical
ISBN: 9781536163520
Free Home Delivery
on all orders
Pick up orders
from local bookshops