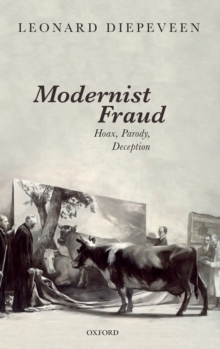 Modernist Fraud : Hoax, Parody, Deception
Hardback
Description
Focusing on literature and visual art in the years 1910-1935, Modernist Fraud begins with the omnipresent accusations that modernism was not art at all, but rather an effort to pass off patently absurd works as great art.
These assertions, common in the time's journalism, are used to understand the aesthetic and context which spawned them, and to look at what followed in their wake.
Fraud discourse ventured into the aesthetic theory of the time, to ideas ofartistic sincerity, formalism, and the intentional fallacy.
In doing so, it profoundly shaped the modern canon and its justifying principles.
Modernist Fraud explores a wide range of materials. It draws on reviews and newspaper accounts of art scandals, such as the 1913 Armory Show, the 1910 and 1912 Postimpressionist shows, and Tender Buttons; to daily syndicated columns; to parodies and doggerel; to actual hoaxes, such as Spectra and Disumbrationism; to the literary criticism of Edith Sitwell; to the trial of Brancusi's Bird in Space; and to the contents of the magazine Blind Man, including a defense ofDuchamp's Fountain, a poem by Bill Brown, and the works of, and an interview with, the bafflingly unstable painter Louis Eilshemius.
In turning to these materials, the book reevaluates how modernism interacted with the public and describes how a new aesthetic begins: not as a triumphant explosion that initiates irrevocablechanges, but as an uncertain muddling and struggle with ideology.
Information
Format: Hardback
Pages: 224 pages, 6 Illustrations
Publisher: Oxford University Press
Publication Date: 21/03/2019
ISBN: 9780198825432