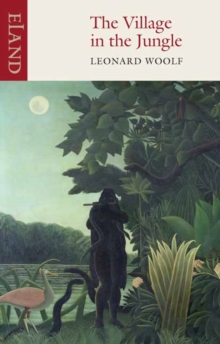 The Village in the Jungle
Paperback
Description
This classic novel of colonial Ceylon (Sri Lanka), was first published in 1913 and is written by a prominent member of the Bloomsbury group, husband of Virginia Woolf.
It reads as if Thomas Hardy had been born among the heat, scent, sensuality and pungent mystery of the tropics.
Translated into both Tamil and Sinhalese, it is one of the best-loved and best-known stories in Sri Lanka.
It includes a new biographical afterword by Sir Christopher Ondaatje, author of "Woolf in Ceylon", and a short story, "Pearls before Swine", which vividly draws on Woolf's experience as a young District Commissioner.
This book reeks of first-hand knowledge of the colonial experience, and of its profound, malign disregard for the psychology and culture of its subject peoples.
Information
Format: Paperback
Pages: 216 pages
Publisher: Eland Publishing Ltd
Publication Date: 01/11/2005
Category: Literary studies: from c 1900 -
ISBN: 9780907871293
Free Home Delivery
on all orders
Pick up orders
from local bookshops
Reviews
Showing 1 - 1 of 1 reviews.
Review by starbox
16/06/2015
"Always evil is coming into this house from the jungle", August 31, 2014This review is from: The Village in the Jungle (Paperback)An engrossing tale, inspired by the author's time as assistant governor in the east of Sri Lanka. Set in a small village, it concerns the taciturn loner, Silindu, and his motherless twin daughters. Silindu is an outsider in his village, and prefers to spend his time away hunting in the jungle. But life is hard and desperately poor, and he finds himself at odds with the village headman, who has the power to make his life difficult...Love, hatred, greed, plotting, religion, superstition all come into this tale; and over it all the British administration, whose taxes and permits make life that bit harder for the peasants.Having recently visited this area of Sri Lanka, I really felt Woolf's writing brought the area to life ;'The jungle surged forward over and blotted out the village up to the very walls of her hut...Its breath was hot and heavy...it closed with its shrubs and bushes and trees, with the impenetrable disorder of its thorns and its creepers, over the rice-fields and the tanks.'In a short story, 'Pearls and Swine' which appears in my (Eland) edition, Woolf expresses some of his opinions on the shortcomings of colonial rule.