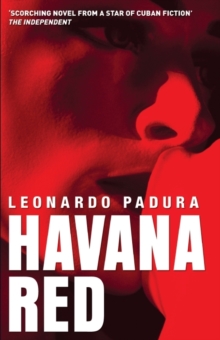 Havana Red : A Mario Conde Mystery
Paperback
Description
On August 6 th 1989 , the day on which the Catholic Church celebrates the Feast of the Transfiguration, the body of a strangled transvestite is discovered in the humid undergrowth of the Havana Woods.
He is wearing a beautiful red evening dress and the red ribbon with which he was asphyxiated is still round his neck.
To the consternation of Lieutenant Mario Conde, in charge of the investigation, the victim turns out to be Alexis Arayan, the son of a highly respected diplomat.
His investigation begins with a visit to the home of the 'disgraced' dramatist, Alberto Marques, with whom the murdered youth was living.
Marques, a man of letters and a former giant of the Cuban theatre, helps Conde solve the crime.
In the baking heat of the Havana summer, Conde also unveils a dark, turbulent world of Cubans who live without dreaming of exile, grappling with food shortages and wounds from the Angolan war.
Information
Format: Paperback
Pages: 238 pages
Publisher: Bitter Lemon Press
Publication Date: 04/01/2005
Category: Crime & mystery
ISBN: 9781904738091
Free Home Delivery
on all orders
Pick up orders
from local bookshops
Reviews
Showing 1 - 3 of 3 reviews.
Review by Hagelstein
16/06/2015
A murder mystery set in Havana by a Cuban author, Havana Red was first published in Spanish under the name Mascaras (Masks). The story goes beyond crime fiction, delving into the murky world of homosexuals and their persecution by the Cuban government. Mario Conde, "The Count", is a lapsed writer and police detective investigating the murder of a transvestite. During the investigation we meet persecuted artists, corrupt police and government officials, and people living with coffee and food shortages and trying to make a living without being caught by the government. The lyrical and philosphical prose carries the story throughout. When Conde does pick up his typewriter again the ribbon is "half covered in rot and good intentions."
Review by grheault
16/06/2015
DNF. Did not finish. <br/><br/>When I read a book the music of the language is as important to me as the words themselves (sort of like me. In this book and in Hanvana Black, I found the translation painful thus never got to the story. I felt like I was deciphering every sentence to figure out its meaning, and it seemed to me very rocky, awkward and difficult to follow, so I gave up. It hurt to read.<br/><br/>Sorry, Leonardo Padura, I suspect the original is pretty darn good.
Review by csweder
27/08/2015
Not good or bad, but it definitely has the feel of a Latin American story (if I could say what that is, I would, but it's a general sense more than something I can define). This is the story of detective Mario Conde, as he struggles in the Cuban heat, to discover the killer of a young male transvestite.