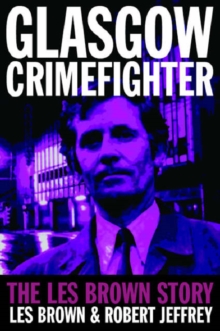 Glasgow Crimefighter : The Les Brown Story
Paperback
Description
The true story of one of Glasgow's most controversial detectives and his battle with the criminals and violent street gangs of the city Two children lay dead on the floor.
Beside them was a hammer and the ceiling was splattered with blood from the fatal blows.
Even to a hardened detective, it was the kind of sight that would stay with you to the grave.
This was Glasgow and the initial crime that led to the killings was as petty as the crime scene was horrific - the theft of a TV set.
This was just one case among hundreds investigated by Les Brown, one of the most experienced and controversial detectives in a force charged with policing the city known as the Chicago of north-west Europe.
Glasgow Crimefighter tells the inside story of cases and criminals who have written themselves into the history of a city where brawling is said to be in the blood.
Down the years, the stories of many of the Glasgow godfathers and gangsters have appeared in lurid headlines and in books and articles.
This is a different view - a rare and intensely human insight into what it was like on the other side of the law and it is told by someone who was just as hard as the men and women he hunted down. This is what it was like to be on the frontline in the war against crimes such as murder, fraud, rape, moneylending and prostitution, and having to deal with violent street gangs on a daily basis.
Throughout his amazing career, Les Brown was in the thick of the action and here he gives the insider's view on many of the aspects of his work - the success stories and the failures of the controversial Special Unit, the drama of famous trials and his tangling with notorious gangland figures like Arthur Thompson.
Information
Format: Paperback
Pages: 256 pages, 8-page black and white plate section
Publisher: Black and White Publishing
Publication Date: 24/10/2005
Category: Biography: general
ISBN: 9781845020606
Free Home Delivery
on all orders
Pick up orders
from local bookshops